GREEN BAY, Wis. -- Everywhere Green Bay Packers rookie Rashan Gary looks, there's opportunity for an education.
His locker at Lambeau Field sits between two veteran free-agent edge rushers, Preston Smith to one side and Za'Darius Smith to the other. He can watch J.J. Watt's practice habits when Watt and the Houston Texans come to town for joint practices next month. He has already studied Aaron Donald's physique and tried to build his body in the same mold as the NFL's top defensive player.
Combine that with the high-energy teaching of new Packers outside linebackers coach Mike Smith, what more could the 12th overall pick in the NFL draft want?
Enter David Bakhtiari.
There was the Packers left tackle, the team's All-Pro left tackle, who stopped Gary as he walked off the practice field.
"He was like, 'Let me talk to you for a second,'" Gary said.
So there was Bakhtiari and Gary, chatting on the field for several minutes as players headed for the showers.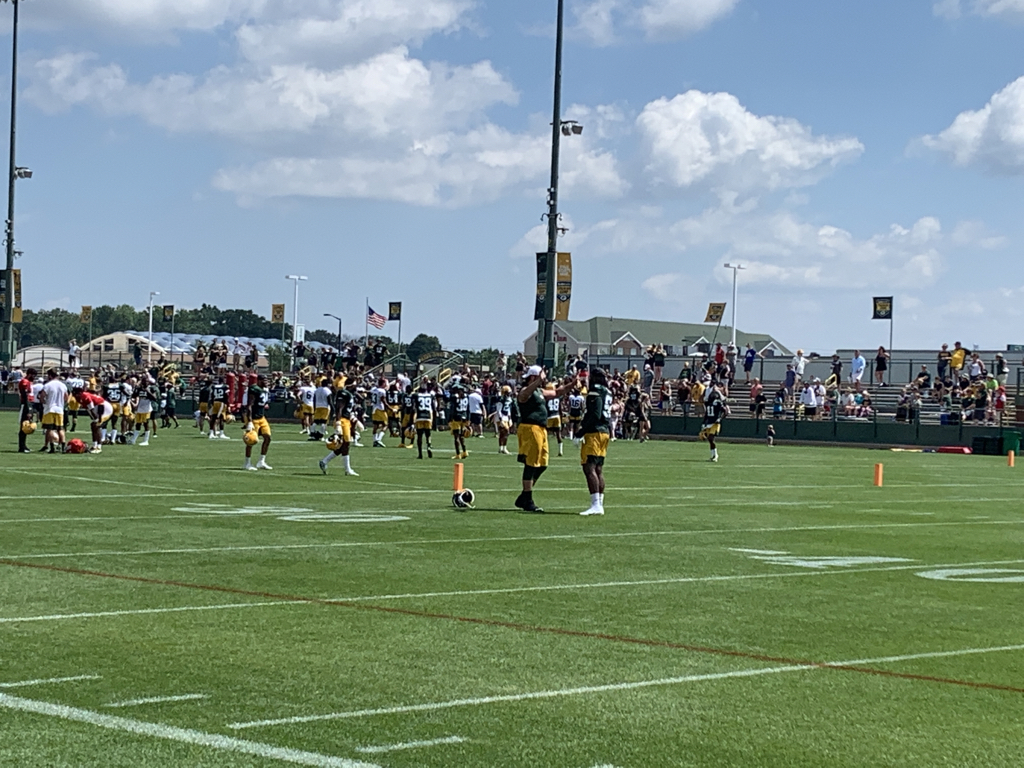 Veteran left tackle David Bakhtiari spent several minutes after practice talking with first-round pick Rashan Gary. What a resource for the rookie pass rusher to have an All-Pro at his disposal.
Earlier in that practice, the Packers put their linemen and pass-rushers through the highly competitive one-on-one drill for the first time in pads.
"If I see something, I'm going to tell him and help bring him along," Bakhtiari said. "Because if it takes him a month to figure out something I notice in a day, he's a month ahead."
Gary could hardly have been more appreciative.
"He's an All-Pro tackle, and when you go against him, especially me being a rookie, it means everything," Gary said. "You're not going to see that week after week. Going against a guy like that and him going through moves and asking me about my thought process and he telling me about his, knowledge is undefeated. Having a guy who has years behind him and who blocks the top edge rushers in the league game in and game out, it means a lot. You have guys willing to talk to you like that, you've got to listen."
It's not uncommon for veterans to offer advice to players at the same position group or even on their side of the ball. But it's less frequent that a player goes across the ball to offer advice -- especially an All-Pro to a rookie.
"I'm going on my seventh season, and I'm trying to win a Super Bowl," said Bakhtiari, a fourth-round pick in 2013. "Most of the guys who did are gone, and they told me how awesome it is. Let's put it like this: I have no idea how much longer I'll be here; you've seen things happen. I'm treating it like I'm only going to be here so much longer and I want to win one.
"He's obviously going to be on our team, so I want him to have his best career and then for us, if he's just a little bit better that makes us better as a team."
Gary came into the NFL with a reputation as an elite athlete -- at 6-foot-5 and 277 pounds he ran a 4.58-second 40-yard dash at the combine, the fastest time by anyone over 275 pounds in recorded combine history -- but an underachiever who posted just 9.5 sacks in three seasons at Michigan. He drew comparisons to Donald, the reigning two-time NFL defensive player of the year.
He tried to emulate Donald in at least one way and used a workout that, among other things, included pass-rush drills in sand (shown in a video he posted on Twitter) that he believes increased his strength and quickness. He said the net result was a reduction in body fat from around 13 percent to 10 percent.
"I felt that looking at guys like Aaron Donald in the league, you look at their body, you see how they perform and you see what type of training they can do and I wanted to take my body to the next level," Gary said. "So for me, getting down to 10 percent, that was a big thing for me. And I can definitely tell the difference."
Four days of practice in, Gary looks like he's off to a strong start. He owns a 4-1 record in the 1-on-1 drill and on Sunday appeared to have a sack during a team period.
"We'll see once we get to the game action, but he's done a lot of nice things," coach Matt LaFleur said. "The one thing that I really like that he's shown is just the effort that he plays with. The way we define that is, you see a change of speed, a burst, then to max speed and then the finish. He's had some good clips to show to the team."
Gary may not know exactly what to expect in his inaugural NFL season, but he said: "I've got everything I need in Z and Preston."
And now he has Bakhtiari, too.