Kyle Walker was Manchester City's unlikely Champions League hero by going in goal against Atalanta, joining a list of top outfield players to don the gloves for their team...
The Toe Poke Daily is here every day to bring you all the weirdest stories, quirkiest viral content and top trolling that the internet has to offer, all in one place.
Jump to: Pele, Kane, Alves among other top stars to go in goal | Winter Is Coming... so try these thermal football boots | Euro 2020 Is Coming... here's the official match ball
Manchester City's group-stage game against Atalanta on Wednesday night saw one of the rare occurrences in football that always unites fans across the world in pure, unbridled joy: an outfield player having to go in goal.
After replacing Ederson at half-time, City reserve shot-stopper Claudio Bravo broke new ground in the 81st minute when he became the first substitute goalkeeper to be sent off in Champions League history.
That left Pep Guardiola without another recognised goalkeeper on the bench and facing the prospect of a morale-sapping shock defeat just days before their Premier League title showdown at Liverpool on Sunday, for which Ederson is now a serious doubt.
But cometh the hour, cometh the Kyle.
"Ladsss! Don't worry, I've got this!!!" pic.twitter.com/plNvgbKtaQ

— Kyle Walker (@kylewalker2) November 6, 2019
The England right-back made a decent fist of his voluntary stint between the sticks, actually making more saves (1) than both Ederson and Bravo (0) had managed between them on the night.
Didn't expect to be tweeting that tonight... https://t.co/za5PA5f0TB

— Manchester City (@ManCity) November 6, 2019
In fact, Walker successfully kept a clean sheet on his shift as City held on to secure a 1-1 draw at the San Siro. That led to City cheekily altering Walker's registered position on their official website.
*Updates website* pic.twitter.com/tq4Dz9gQ2Q

— Manchester City (@ManCity) November 6, 2019
So, technically, Walker becomes the fourth most expensive goalkeeper in history -- though we're not entirely certain his place just below Gianluigi Buffon in the ranking will be officially recognised.
Kyle Walker becomes the 4th most expensive goalkeeper in football history. pic.twitter.com/bzIMO7erwV

— ESPN UK (@ESPNUK) November 7, 2019
Meanwhile, Raheem Sterling -- the scorer of City's early opener -- couldn't hide his amusement at the sight of his mate larking about in goal.
And I'm sorry but this was too funny broooo @kylewalker2 (I wouldn't trust you holding my baby tho 😂😂😂) pic.twitter.com/ReEJ8B3qDL

— Raheem Sterling (@sterling7) November 6, 2019
Riyad Mahrez was left baffled by his role in the whole affair.
Weirdest substitution ever 😂😭 @kylewalker2 pic.twitter.com/wjgjJjR0Dh

— Riyad Mahrez (@Mahrez22) November 7, 2019
Pele, Kane, Alves among other top stars to go in goal
While certainly not a regular occurence, Walker isn't the first outfielder to take up the gloves -- far from it.
Indeed, there is a grand lineage of ersatz goalkeeping that goes back decades, with some big names included on the honour roll.
Kyle Walker joins the club ✋ pic.twitter.com/WUJXIkkdBP

— ESPN FC (@ESPNFC) November 6, 2019
Pele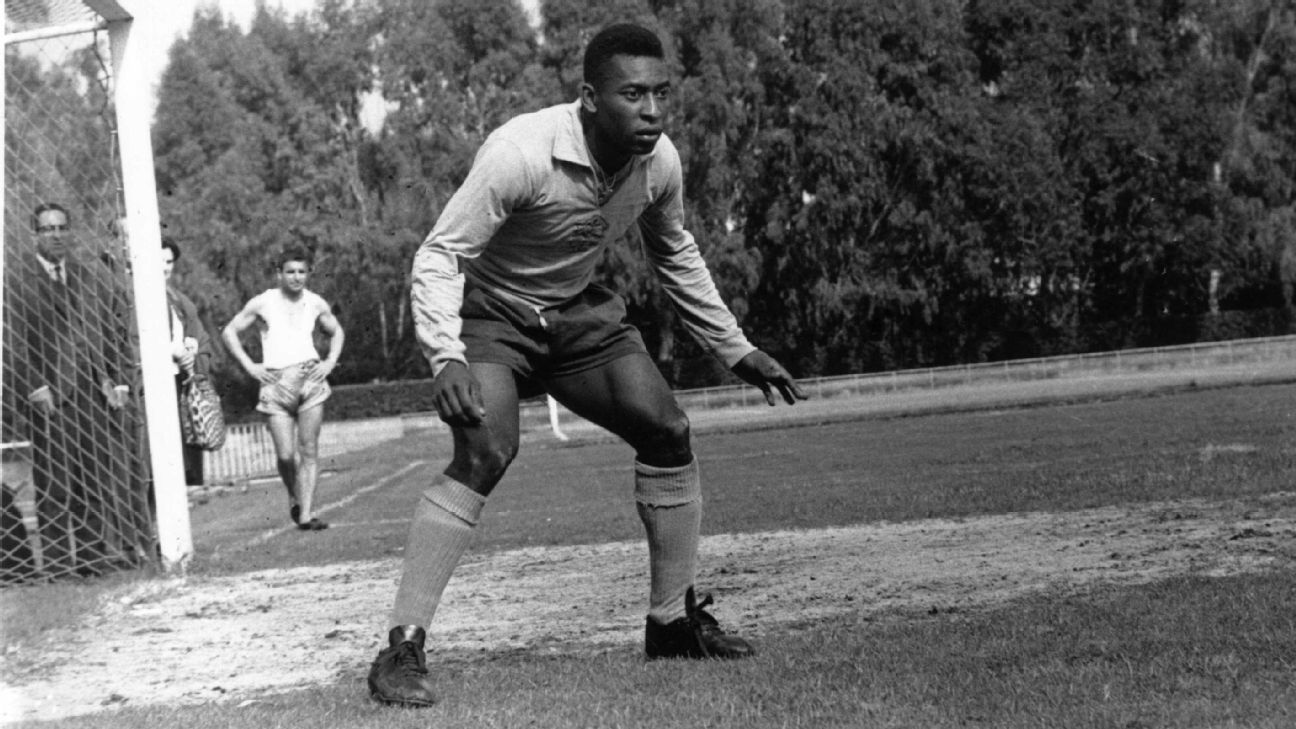 Having already scored a hat trick in a game against Gremio in 1963, Pele replaced Santos goalkeeper Gilmar when he was injured in the second half.
Pele volunteered to take the gloves. And he was pretty good, by all accounts. "He was a great goalkeeper," teammate Pepe said. "Lithe, as if he could fly."
Much like Pele, Kane's dalliance with emergency goalkeeping came after scoring a hat trick against Ludogorets in the Europa League.
The striker muddled manfully through the last three minutes, conceding once in rather embarrassing circumstances.
No stranger to putting his body on the line for Chelsea, Terry went in goal against Reading in 2006 -- the game in which Petr Cech suffered the serious head injury that led to him wearing a scrum cap for the rest of his career -- only for replacement Carlo Cudicini to also get knocked unconscious later in the game.
Rio Ferdinand
Anything Kyle Walker can do...

Sorry @rioferdy5, we couldn't resist. 🤣 #ManUtd #MUFC #FACup #safehands 🙌 pic.twitter.com/0Lor918FU3

— Match of the Day (@BBCMOTD) November 7, 2019
Ferdinand valiantly took up the gloves during Manchester United's FA Cup quarterfinal against Portsmouth in 2008, though immediately conceded via a Sulley Muntari penalty.
Vinnie Jones
The notorious Wimbledon hardman-turned-Hollywood actor (still doesn't sound right, does it?) went in goal against Newcastle at St James' Park in 1995 and actually did make a few decent saves. However, he did concede three goals in 30 minutes as the Dons lost 6-1.
Mia Hamm
Not content with being one of the most formidable strikers in USWNT history, Hamm also kept a clean sheet for her country at a World Cup after going in goal for the final six minutes of a game against Denmark in 1995.
It's 12 years to the day since John O'Shea pulled on the gloves against Spurs...

We ❤️ you, Sheasy! #MUFC #OnThisDay pic.twitter.com/K8RXoOilho

— Manchester United (@ManUtd) February 4, 2019
Fully embracing his role as Manchester United's resident utility man, O'Shea completed the full set when he took up his position in goal against Tottenham in 2007.
United were up 4-0 when Edwin van der Sar suffered a broken nose and his unlikely Irish replacement stepped in to ensure that was also the case by full time.
Wait is that Dani Alves playing goalkeeper for PSG???!! pic.twitter.com/bxQWpzshl6

— Goal (@goal) February 6, 2018
In a departure from his usual pitch-roaming adventures, Alves for once found himself rooted between the posts when the diminutive Brazilian full-back went in goal for PSG last year.
Lucas Radebe
Leader. Legend. Goalkeeper?

Lucas Radebe gained instant cult status when he went between the sticks against Man Utd for @LUFC #PLMoment pic.twitter.com/FMyuVO7PbR

— Premier League (@premierleague) August 30, 2017
Leeds United's South African stalwart went in goal just 15 minutes into a Premier League game against Manchester United in 1996.
Radebe did a good job of keeping Andy Cole and Brian McClair at bay until a fierce Roy Keane strike eventually broke his impressive resolve.
The ultimate, granddaddy, end-of-level boss of all outfield players in goal. Moti attained instant footballing immortality when he took over in Ludogorets' nets in 2014.
The grizzled centre-half replaced 'keeper Vladislav Stoyanov when the latter was sent off in the final minute of extra-time during a tense Champions League qualifier against Steaua Bucharest.
The game ended 1-1 and went to penalties, wherein Moti proceeded to both score Ludo's opening spot-kick and then make two vital saves in the shootout to send his side through to the group stage for the first time ever.
Now that's how you become a club legend.
Winter Is Coming, so try these thermal football boots
Straight from our Greenland labs 🥶❄

Winterized pack, the ultimate cold-weather boots.

➡ Ice-cold green color
➡ Reflective laces
➡ Thinsulate 200g insulation technology that retains heat and keeps your feet warm during the rawest of winter games. pic.twitter.com/PH5BIbUkax

— PUMA Football (@pumafootball) November 7, 2019
For those long, cold months, Puma has produced a football boot specifically designed to keep your toes warm during winter.
The new winterized pack features a pair of Puma boot models that boast seasonally appropriate icy green livery and Thinsulate thermal linings.
Launched ahead of the winter schedule, the winterized boots utilise Thinsulate insulation to lock in the heat, offer enhanced protection and keep your feet warm during even the frostiest of encounters.
Good timing for those players who regularly succumb to the chills this time of year.
Euro 2020 Is Coming... here's the official match ball
Unity + Euphoria = #Uniforia 🌍🌎🌏

A ⚽ that unites us all in the first ever borderless EURO#EURO2020 pic.twitter.com/Ul3t9pmPAa

— UEFA EURO 2020 (@UEFAEURO) November 6, 2019
Adidas has unveiled Uniforia, otherwise known as the official match ball for Euro 2020.
Complete with eye-catching neon design, the ball also incorporates the GPS coordinates of all 12 of the various European cities set to host games at the tournament.
In keeping with the general spirit of diversity and unity, the Uniforia's design apparently encompasses "the notion of crossing bridges and the blurring of boundaries."
Euro 2020 is scheduled to kick off in Rome in June next summer before stopping in Amsterdam, Baku, Bilbao, Bucharest, Budapest, Copenhagen, Dublin, Glasgow, London, Munich, Rome and St. Petersburg en route to the final at Wembley.