The 2022-23 Premier League season is over, with plenty of VAR controversies across the campaign. Which clubs have been the winners and losers from the influence of the video referee?
ESPN brings you the VAR Effect Table. We've taken all 116 VAR overturns in the Premier League and calculated how they might have influenced matches.
It's not just about the number of times a team gets a favourable VAR call or about how many goals are affected. What's more important is when these VAR decisions take place, and crucially, whether that impact would ultimately have changed the final score.
We're not saying the VAR decisions were wrong -- we're just looking at what might have happened if the video assistant didn't exist and the original decisions stood.
- JUMP TO: The losers without VAR | The winners without VAR
How we work out the VAR Effect Table
We take only the first VAR overturn in each game, because the calculation considers that any subsequent VAR incident wouldn't have happened because the whole direction of the game has been altered. (Think of it like a Marvel timeline, or the plot of any time-travel movie.)
The VAR decision is then reversed to the original on-field call -- so if a goal is disallowed for offside, it's given as a goal.
If a penalty has been cancelled, it is considered to have been awarded and scored, unless the team in question has a penalty-conversion record below 50% over the season. For instance, Crystal Palace scored only one of their three spot kicks. If below 50%, a penalty may be judged to have been missed.
If a team has been awarded a goal through a penalty or an incorrect offside through VAR, the goal is disallowed.
We then take into account a series of factors before settling on a predicted outcome:
Team form: Results in the previous five matches give an indication of how a team has been playing generally.
Time of incident: For instance, if an incident happens late in the game, it's less likely that the scoreline would change again after this point.
xG at time of incident: This allows us to take into account which team has been creating the better chances and is in the ascendancy.
Team strength: As well as form, a team's general strength plays a part. This takes into account league position, and a team's goal-scoring and defensive records across the season.
Impact of incident: For example, a red card decision being reversed may change the outcome of a match.
These results have then been used to modify the table and work out what impact VAR has had on teams' positions this season.
The table shows each team's position after the amended results, with the arrows indicating if their league position is better or worse without VAR.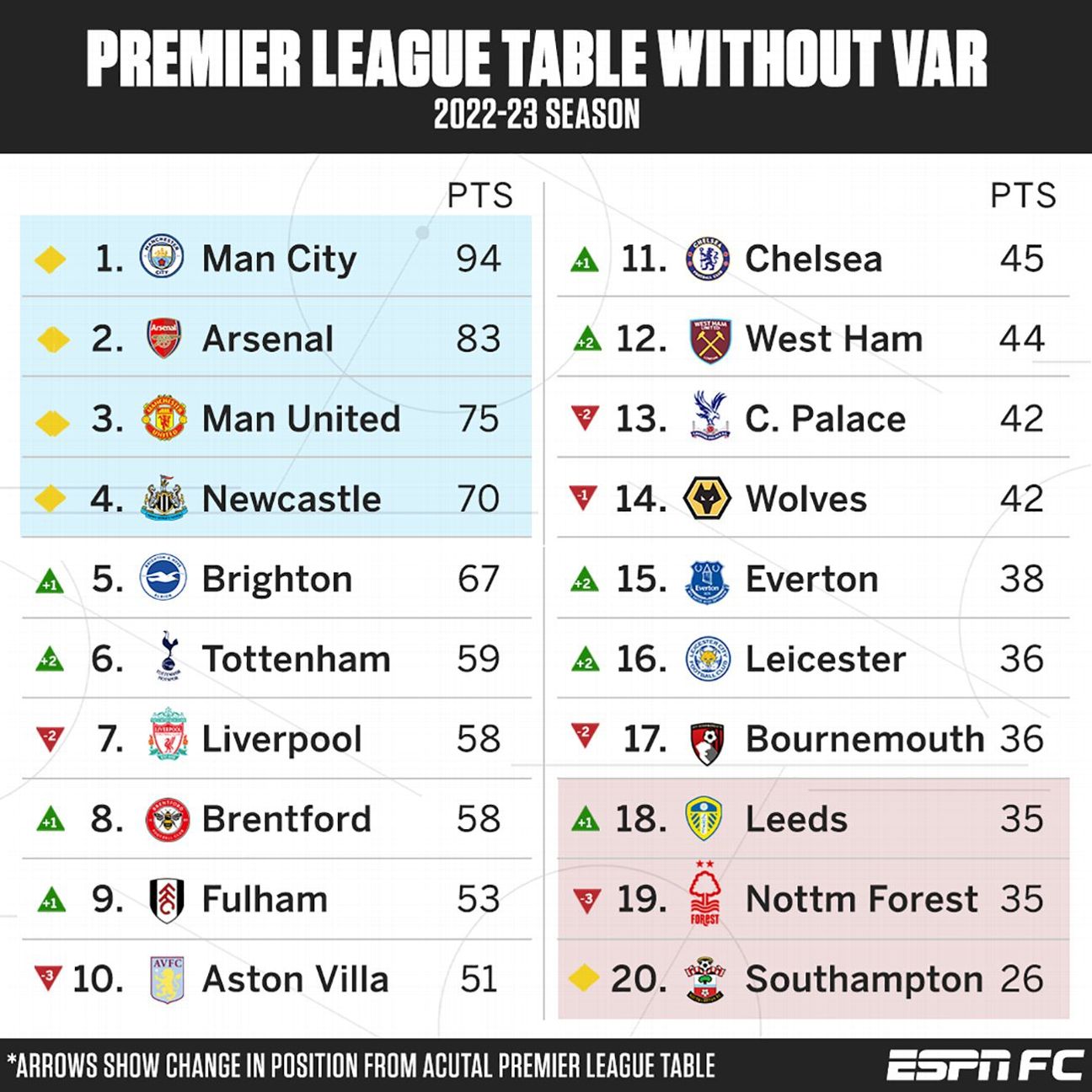 The big losers without VAR
Two teams have, comfortably more than any other, benefitted from VAR decisions at crucial times in matches this season -- and it earned them European football for next season.
Incredibly, Aston Villa are 10 points worse off without the influence of Stockley Park. That sends the Villans out of the Europa Conference League place and tumbling down three places into 10th.
Villa have had seven VAR calls in their favour, which is far from the highest (that's Brentford with 11), but five of them came at pivotal points in games and turned some draws into victories.
Emiliano Buendia had a goal awarded for an incorrect offside against Leeds United in a game which they won 2-1. Then Southampton's James Ward-Prowse had a goal disallowed for a foul in the build-up that would have given Saints the lead, in a match Villa went on to win 1-0. In March, in the narrow win at home to Crystal Palace, Wilfried Zaha had a goal chalked off for offside. Leicester City had a penalty overturned, and Brighton also had a goal cancelled for offside, in games Villa won 2-1.
Not far behind are Liverpool, who lose nine points and drop out of the Europa League places into seventh, only worthy of the Europa Conference League -- a position they just hold onto ahead of Brentford, who lose a point themselves, on goal difference.
Only two clubs have had more VAR interventions in their favour (nine) than Liverpool, and the six goals that were disallowed for the opposition is more than any other club; not one VAR intervention has cost Liverpool points.
In October, Phil Foden had a goal disallowed at Anfield when Erling Haaland was adjudged to have fouled Fabinho in the build-up. That strike would have given Man City the lead, and instead Liverpool went on to win the match 1-0. The VAR table gives City the victory, a swing of three points.
Four other incidents see draws turn to defeats for Jurgen Klopp's men. Liverpool were 2-0 down against Brighton at Anfield when VAR helped give Mohamed Salah a goal which had been disallowed for offside; the game finished 3-3 but our table gives Brighton a 2-1 win. In September, Conor Coady thought he had bagged a late winner in the goalless draw in the Merseyside derby until the offside lines came out. And while both games against Chelsea finished goalless, the Blues actually had an effort ruled out by the VAR in each.
Finally, at West Ham in April, Jarrod Bowen had a goal ruled out for offside. The game was 1-1 at that point, and Liverpool went on to win it through Joel Matip. That match is calculated as a draw, costing Liverpool two more points.
Aston Villa's and Liverpool's loss is Tottenham Hotspur's gain -- who would suddenly have European football. Although Spurs are one point worse off without VAR, the huge loss of points for the two teams above them means managerless Tottenham move up two places to sixth, and get the Europa League.
While Villa and Liverpool may have their European aspirations affected, there's even worse news for Nottingham Forest -- who are relegated.
Steve Cooper's men have spent much of this season complaining about refereeing decisions, but they are a net three points worse off without VAR, which is enough to send them into the bottom three, with Leicester City saved from the drop into the Championship.
Forest would have lost at home to West Ham on the opening weekend, but for the VAR disallowing Said Benrahma's goal for a foul in the build-up by Michail Antonio. And in a win against Crystal Palace, Morgan Gibbs-White was awarded the match-winning goal after an incorrect offside flag. Brennan Johnson also had an offside goal given against Leicester when the game was locked at 0-0, and they were awarded a penalty in a win against Brighton when the score was 1-1.
AFC Bournemouth also drop three points and are left perilously close to the relegation zone, just a point above it. Crystal Palace, too, are three points worse off and fall two places to 13th.
Four teams have a loss of one point, including Arsenal. The Gunners were involved in some high-profile events, though the missed offside in the home draw with Brentford isn't factored in as that wasn't a VAR intervention. Newcastle United also lose a point, but hold onto Champions League football.
Manchester United are the only club in the division to remain on the same number of points (75), and they also stay in the same position (third).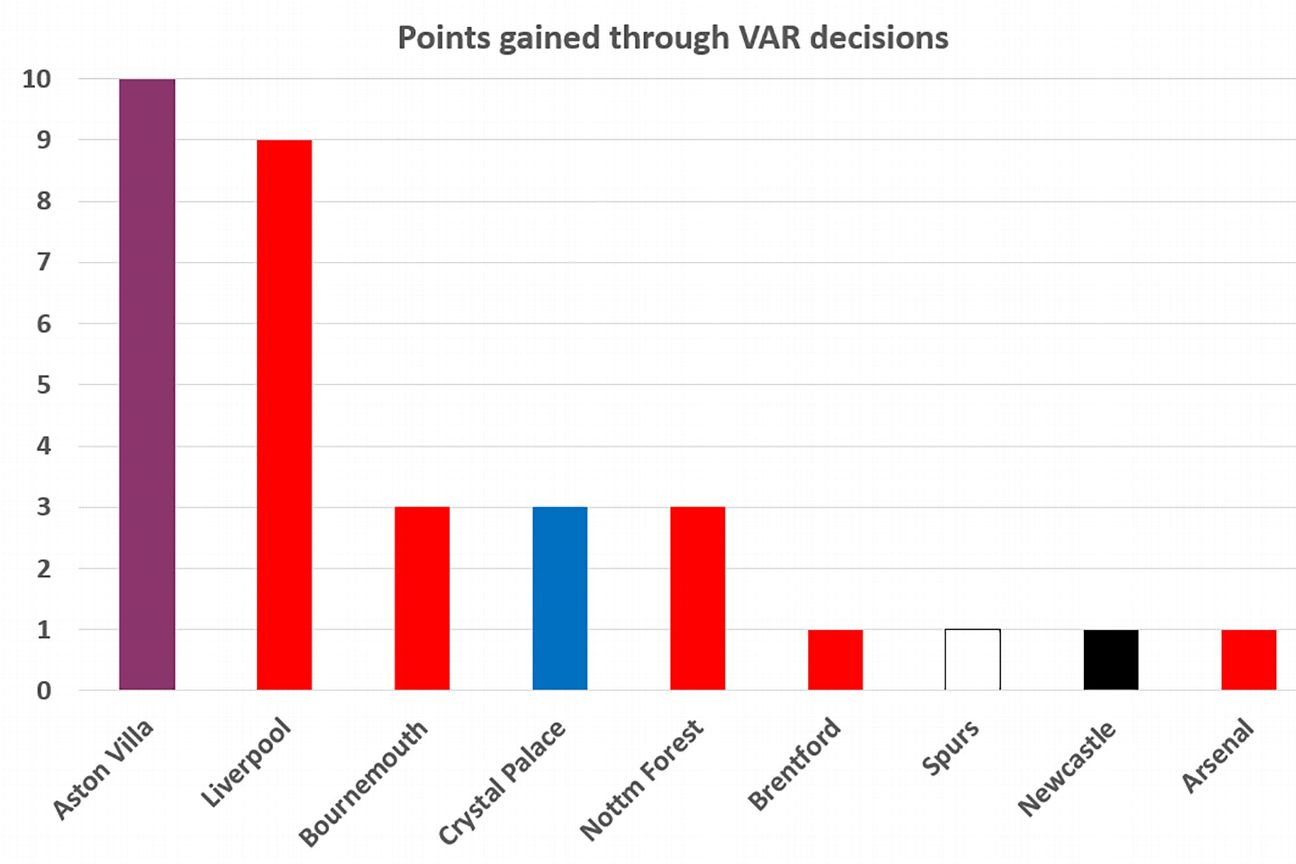 The big winners without VAR
It won't come as a surprise to learn that Brighton & Hove Albion are the joint-worst affected and, along with Manchester City, get the most points back (five) once the influence of the VAR is factored out. The pair also sit at the bottom of net VAR decisions on minus-4.
The Seagulls saw a series of high-profile VAR events go against them, including Alexis Mac Allister's goal being ruled out for handball in their loss at Tottenham, Salah's goal allowed after an incorrect offside flag, Deniz Undav's goal ruled out for offside at Villa and the penalty awarded to Forest for Lewis Dunk's handball.
Brighton have had the most VAR decisions go against them, with five goals disallowed (only Newcastle and West Ham [six] suffered more). Roberto De Zerbi's men did have a few decisions go in their favour, especially toward the end of the season, including the late winner disallowed for Man City striker Erling Haaland. Brighton climb up a place to fifth in the table -- but they are three points short of Newcastle in the final Champions League spot.
Man City now top the Premier League by 11 points, six points more than in the real table, finishing the campaign on 94 to Arsenal's 83. City only have two result-changing incidents: the Haaland effort at Brighton and their goal disallowed at Anfield when the game was 0-0, as Liverpool went on to claim all three points.
Leeds United are facing up to life back in the Championship, and while they are four points better off without VAR, it's not enough to lift them out of the relegation zone. Leeds conceded five goals through VAR, more than any other team. A 1-0 loss at home to Arsenal is a draw after an injury-time Leeds penalty was cancelled through VAR; Leeds also had an early penalty overturned in their loss at Bournemouth. They are also given a win at home to West Ham and draws from defeats at Aston Villa and Brentford. Leeds did get a crucial VAR call in their favour just before the international break, with defender Jonny sent off as Wolverhampton Wanderers piled on the pressure in search of an equaliser; without the red card, this game goes down as a draw.
West Ham also get four more points without VAR, sending them up two places to 14th. West Ham (along with Newcastle) have been more involved in VAR than any other club with 19 interventions -- an average of one every other game.
Everton and Leicester are two points better off, which is enough to lift the Foxes out of the relegation and up into 16th. Leicester had 14 VAR interventions, eight of those going against them -- with the cancelled penalty against Villa, and the goal awarded to Forest being their two changed results.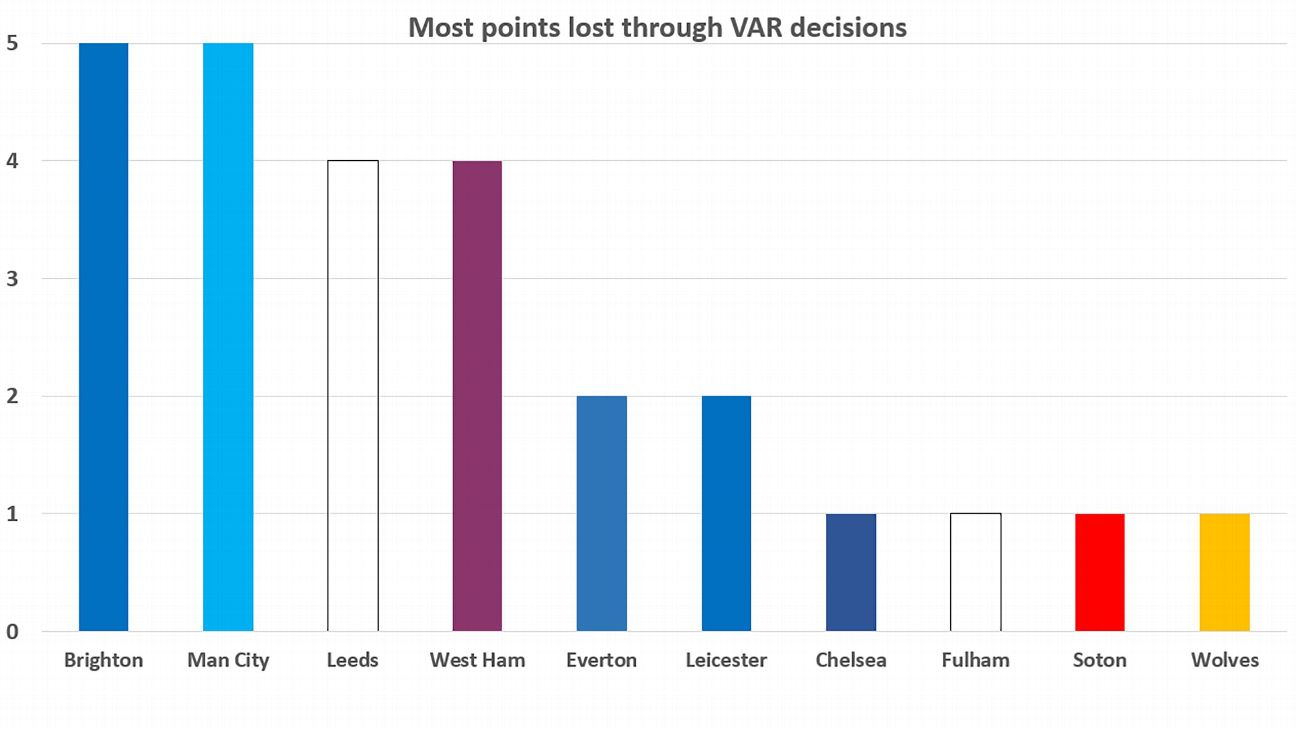 Chelsea, Fulham, Southampton and Wolverhampton Wanderers complete the list, each one point better off without VAR.