These daily files will give you the latest reporting from around the World Cup as well as betting lines, what to watch for information and best reads. Check in with ESPN throughout the tournament as we bring you the latest from France.
- RUGBY WORLD CUP 2023: Squads | Schedule | Standings | Podcast | Injuries
---
THE LEAD: Cam Roigard -- a name you won't forget anytime soon
Cam Roigard has laid down the gauntlet and altered the halfback pecking order after a stunning display in his maiden Test start for the All Blacks in a trouncing of Namibia.
With the most to gain from the side's second Pool A clash, Roigard made sure to make the most of his appearance, running in two tries and setting up three more to put himself front and centre for the No.9 jersey following Aaron Smith's departure at the end of the year.
In less than two minutes Roigard had already made his mark, finishing off a slick backline move which saw Leicester Fainga'anuku collect a crossfield kick from Beauden Barrett before he slipped the ball off to Roigard to finish the move over the chalk. It would take just a couple of minutes to find the white line again, after he broke through Namibia's wet rag of a defence.
Showcasing his accurate pass, producing two sniping runs to set up David Havili and Damian McKenzie, as well as his own five pointers, Roigard put his name in lights and demonstrated his lethal threats in an impressive 66-minute performance and his efforts were justly rewarded with a man of the match trophy which has no doubt seen him elevated above Finlay Christie.
"He played really well, he had a pack that was giving a platform clearly, but he took his opportunities," All Blacks coach Ian Foster said of Roigard. "It's one thing to have good go-forward ball but he made really good decisions with that and he should be really proud. We saw the benefit of his running game."
It's not all good news for the All Blacks though with a red card to Ethan De Groot dampening the side's dominant display with a high shot landing him a date with the judiciary and perhaps ruling him out for several weeks.
After coming off the bench in the second half De Groot was handed a yellow card for a high shot on Adriaan Booysen which was soon upgraded to a red. It shines a light on the side's poor disciplinary woes, conceding 12 penalties to Namibia's seven on Friday night, while they had a 12-4 penalty count in their World Cup opener against France last week.
While it's job done for the All Blacks for now, the win will hardly have World Cup contenders worried.
Horrific injury adds to scoreline woes
If a trouncing to the All Blacks in their 24th World Cup loss wasn't enough, Namibia will now be without star centre Le Roux Malan after he went down with a horrific ankle injury early in the piece.
Around 18 minutes into the clash in wet conditions in Toulouse, Malan can be seen attempting to make a tackle but instead slides across the pitch where his right ankle gets caught beneath him in sickening fashion. As play moves on it becomes clear how gruesome the injury is with his ankle facing the wrong direction.
Referee Luke Pearce was quick to stop play once he became aware of the distressing scene before he was forced to turn away after witnessing the injury while with the crowd also reacted to the terrible injury.
Medics were quick to the pitch as teammates were forced to turn away from the scene to compose themselves, while the crowd gave the player a round of applause as he waved to the crowd as he was medi-cabbed off the pitch.
-- Brittany Mitchell
---
AROUND THE CUP
Portugal ready to put name in history books
Portugal are aware of their underdog status, and the mountain they have to climb on Saturday in Nice if they are to secure one of the biggest upsets in World Cup history when they play Wales, but they are quietly confident of leaving their mark on Warren Gatland's side.
They have a reputation for expansive rugby and spreading the ball whenever opportunity arises, but Portugal won't be playing harum-scarum rugby against Wales. Instead, it's going to be pragmatic with a hint of opportunism as they look to upset the odds. "We won't send the ball to the wings immediately," Portugal coach Patrice Lagisquet said. "We will have to adapt. We will have to play rugby that can be competitive given the weather conditions."
Portugal have had their eyes on this match ever since they qualified back in November at the expense of the U.S. They are taking inspiration from the 2007 group where they managed to score a try against the All Blacks and pushed Romania close. But they are also looking to go one better and secure a victory in their pool which includes Australia, Georgia and Fiji.
"I don't have a crystal ball to say how we can beat Wales," Lagisquet said. "I have tried to think about that for many months. If I found a key, I wouldn't tell. We have to try to play our best and show we have improved in key areas of the game. We try to have no weakness, but it's difficult when you play a team like Wales, who played in the semi-final of the last World Cup, although maybe they have not been at their best level recently.
"Against Fiji, Wales defended with 253 tackles. We can't repeat the strategy of Fiji. We don't have the power. We will try to play with our identity."
-- Tom Hamilton
Nick Frost's fight with ongoing ear injury
Rugby throws up all sorts of injuries, including the infamous cauliflower ear, which is more of a by-product of scrummaging than an injury as such. The Wallabies' Nick Frost, however, is dealing with a pesky cut at the top of his right ear that has required some out-of-the box thinking.
Frost was on Friday named in the Wallabies' starting side to face Fiji despite the ongoing issue, which he revealed had been stitched three times and required some "arts and crafts" to fashion a protective cast over it at training.
"I cut it open in the Bledisloe game first Test and it's been a bit of an annoyance since. At the moment I am trying to protect it, I've re-opened it a few times. Every time you do contact, in a contact sport, against the side of your head, it opens back up.
"Protection-wise, it's a bit of headgear and tape and a bit of padding. It's been really annoying, such a small thing that keeps you out. Stitches three times.
"Before we left Darwin (site of an Australia training camp) I was going to get a quick surgery to fix it up but they decided against it. It was infected, so I did spend a day there getting some antibiotics to clear it up. From an infection it takes a bit more time to heal, and then when we thought I was good to go, I had an accident in training and re-opened it.
"It's been a few weeks, so very annoying. Now we are looking pretty much on the right track."
Frost revealed the Wallabies medical staff had looked to another sport for a solution to help him get through training, though it won't be one he'll be replicating on field against the Fijians on Sunday evening.
"We've had to order a few in and there's a bit of an arts and craft department with the physios. We are working things out, sewing things on. Trying to source a water polo cap in the south of France was a bit of an issue.
"I wear that for training and then I have my headgear on for training.
"Previously we had a bit of foam cup over my ear and it was pretty hard to hear. Now I've got my hearing back in one ear, which helps on the rugby field."
-- Sam Bruce
---
MATCH PREVIEW
Samoa vs. Chile:
TAB [tab.com.au] Samoa $1.01, -33.5 $1.90; Chile $17, +33.5 $1.90
Having watched on from the sidelines last weekend, Samoa are finally into action in this clash in Bordeaux. It was an emotional day for Chile, meanwhile, last Saturday when they took their Rugby World Cup bow, and then took it right up to Japan despite a couple of yellow cards. There is plenty of attacking talent in this Chilean team, but it's defensively where they must improve. Samoa have some powerful ball-carriers and the addition of Steven Luatua and Christian Leali'ifano, and Lima Sopoaga to come off the bench, have added that little bit of extra class. Still, the Samoans will be taking nothing for granted here, if they are to scramble their way out of the pools for the first time since 1995 then a win is a non-negotiable here.
Wales vs. Portugal:
TAB [tab.com.au] Wales $1.01, -30.5 $1.90; Portugal $17, +30.5 $1.90
Six days after their heart-stopping win over Fiji, Wales are back in action this time against the slightly less imposing opposition of Portugal. But they can ill-afford to underestimate their European opponents, who gave an Australia A side a few problems in a warmup match last month. Still, there is no reason why Wales shouldn't win this game and win it well, and at the same time build some more momentum for next week's crunch game against Australia. Wales coach Warren Gatland has made a number of changes for this game, including the inclusion of Gareth Anscombe at No. 10, which may affect their continuity early. But there are few surprises in how Gatland likes his team to play so any issues shouldn't last too long, while Wales will be keen not to repeat their record-breaking defensive effort against Fiji as well.
Ireland vs. Tonga:
TAB [tab.com.au] Ireland SUSP, -36.5 $1.90; Tonga $21, +36.5 $1.90
Ireland aren't taking any risks against a beefed-up Tonga, who are the last team into action at Rugby World Cup 2023. Andy Farrell has named a first-string side that will be looking for a slightly faster start than last week against Romania, not that it had any effect on the scoreline. Ireland will want to tune up for next week's pool-defining clash with the Springboks by dominating Tonga at set-piece, executing their crisp passing game and creating space for their trio of superb outside backs. Look for resistance from a fresh Tonga for the first half, with bits of magic from Charles Piutau and Vaea Fifita, but the Irish are playing with too much class and confidence right now to be seriously troubled by Tonga, who will be setting themselves for games against Romania and Scotland.
---
NEWS OF THE DAY
Wallabies rocked by another big injury
Will Skelton could be a late scratching from the Wallabies' clash with Fiji after he was sent for scans on a calf injury on Friday morning. News that Skelton had pulled up lame at training was revealed only moments after the Wallabies had released their team to face the Pacific Islanders, with the skipper's name still in it.
Wallabies coach Eddie Jones did not divulge exactly how it happened but it was clear the coach was concerned for his skipper despite saying he would be given right up until the opening whistle to prove his fitness.
One media report said Skelton had already been ruled out of Sunday's clash and that he could yet be ruled out of the entire tournament, such was the seriousness of his injury. But as of Friday afternoon [CET], the Wallabies were yet to reveal the prognosis on their towering second-rower and skipper.
---
TOP FEATURES OF THE DAY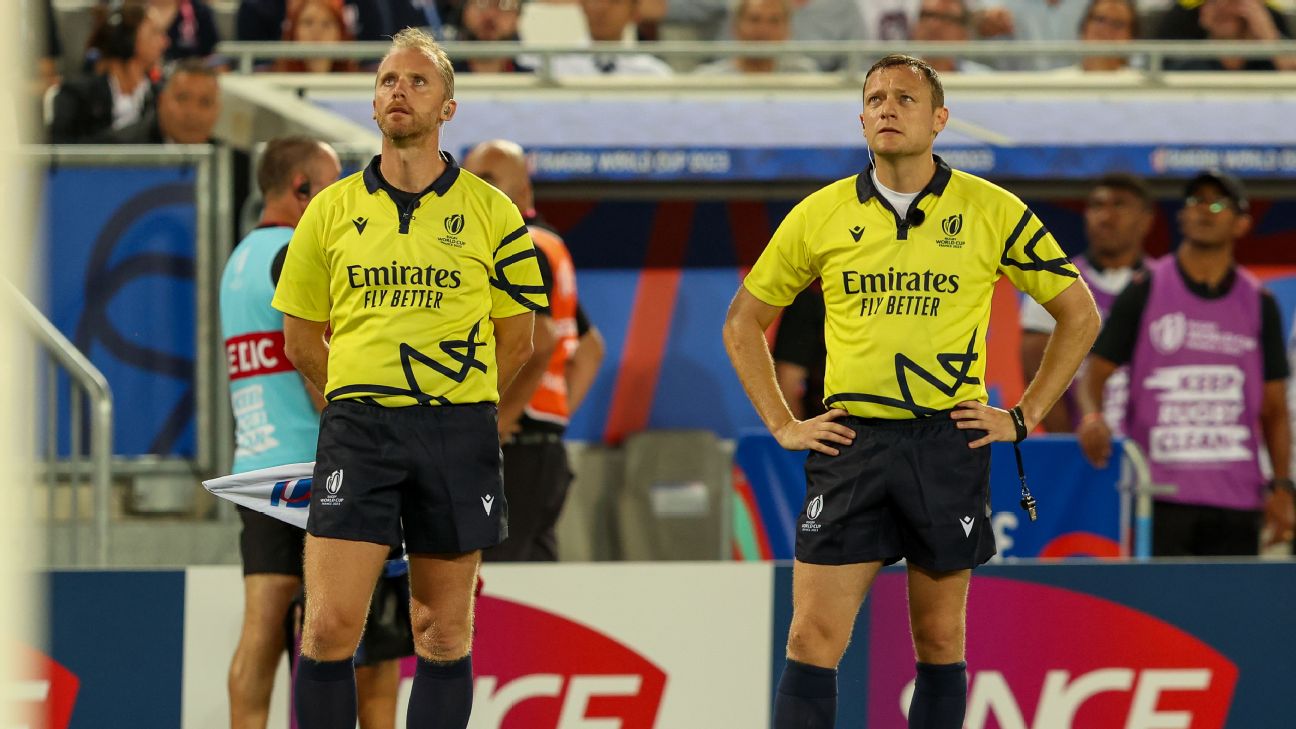 Eddie on rugby's TMO use: 'Fraught with danger'
Eddie Jones has taken aim at the use of the Television Match Official in rugby and said that while World Rugby has attempted to make the sport safer, the governing body has at the same time brought more power and, therefore, risk, into it.