These daily files will give you the latest reporting from around the World Cup as well as betting lines, what to watch for information and best reads. Check in with ESPN throughout the tournament as we bring you the latest from France.
- RUGBY WORLD CUP 2023: Squads | Schedule | Standings | Podcast | Injuries
---
THE LEAD: FORMER WALLABY EXPLODES AT EDDIE'S TACTICS
Former Wallabies winger Drew Mitchell has taken aim at Eddie Jones, blasting the Australia coach for a lack of "explanation" behind some of his selection decisions in the wake of the shock loss to Fiji at Rugby World Cup 2023.
Speaking on the podcast "The Good, the Bad and the Rugby: Australia", a clearly furious Mitchell, adorned in a Wallabies supporter jersey, called out Jones over his "I take full responsibility" remarks for the 22-15 defeat by Fiji.
It is a line Jones has used throughout his career, most notably when coach of England following their loss in the final of the 2019 World Cup, but Mitchell wasn't buying it this time around.
"Let's not take away from the fact that Fiji played really well, but let's also not take away from the fact that we f------ shouldn't have lost to Fiji," Mitchell said. "Eddie sits there and says 'I take full responsibility,' but what the f--- does that mean, though; he doesn't get dropped next week. He's not not coaching next week. It's just like an empty line in a press conference, 'yeah I take full responsibility'; like what does that equate to? Like nothing."
Perhaps I should've had some more sleep.. 🙈
Apologies for my swearing.. a tad emotional 😬

Just want to see the boys do well..

All that been said, I still believe in our men this weekend against Wales!!#AllezWallabies https://t.co/SgIERcR56x

— Drew Mitchell (@drew_mitchell) September 20, 2023
Mitchell then turned his attention to the original omissions of Michael Hooper and Quade Cooper, whom Jones left out of his squad as he ushered in the likes of Fraser McReight, Carter Gordon and Ben Donaldson with an eye on the 2027 tournament, which will be played in Australia.
On Hooper's omission in particular, Mitchell referenced the Pone Fa'mausili and Max Jorgensen, two players who were taken to France despite being under injury clouds, as to why the former Wallabies skipper could also not be included while he was recuperating from a calf strain.
"You've made some glaring decisions around Quade [Cooper], Michael Hooper, captaincy; there's six captains in seven weeks; f------ explain some of these decisions to us," Mitchell continued. "Because as fans we're all sitting here scratching our heads and a lot of time we can sit there and defend Eddie or the Wallabies because we can understand logic in some of these decisions, but there is none of it.
"And he's not actually given any explanation as to why Quade's not there; why is Michael Hooper not there? He said Michael Hooper's injured. Well, you've taken Pone Fa'amausili, you've taken Max Jorgensen and you've taken these other guys who are injured. So that's a redundant point; why the f--- have you not selected Michael Hooper, Quade Cooper, like come out and actually tell us as fans, why have you not picked these guys, because now we're seeing the result of you not picking some of these guys."
Coincidentally, prop Fa'amausili will finally be available for selection for the Wallabies' make-or-break game against Wales, while Jorgensen was injured again at training on Wednesday morning [CET], the 19-year-old's hope of a Wallabies debut at the World Cup ruined by a fractured fibula.
Mitchell, too, walked back his fury when the clip of his dissatisfaction hit social media, and also apologised for his description of negativity towards Fiji, after being called out by coach Simon Raiwalui.
"Perhaps I should've had some more sleep.. apologies for my swearing.. a tad emotional. Just want to see the boys do well," Mitchell posted to social media platform X.
"All that been said, I still believe in our men this weekend against Wales!!"
---
AROUND THE CUP
The 'nuke squad': Boks confident in 7-1 split for Ireland
The Boks have gone for their 7-1 split again against Ireland, the same tactic they used in their 35-7 win over the All Blacks back in August. The move at the time received criticism from some corners, but the Boks have stuck to their tactic of picking seven forwards and one back for Saturday's blockbuster match in Paris. The caveat is - the versatile Kwagga Smith can cover the backs if required, in a squad that's been built on players being able to play in multiple positions.
"Obviously the 7-1, a couple of years ago the 6-2 was very new to people, a lot of teams are now doing 6-2," Rassie Erasmus said. "If you go 7-1, you have to have players like Kwagga Smith who is used to playing sevens or able to play against Fiji and guys in one and one situations."
The 6-2 split they used in the 2019 World Cup was called the "bomb squad"; this latest evolution is now nicknamed the "nuke squad". The bench throws up some interesting options, given that both Deon Fourie and Marco van Staden can play at hooker as well as in the back-row. The only specialist back on the bench is Cobus Reinach, the scrum-half - one of four No.9s in the Boks' World Cup squad.
For the players themselves, they're aware of the outside chatter around the innovative split, and the subsequent criticism. "We respect the decision of the coaches and we as players just go out, whoever gets selected, to prepare as well as we can throughout the week," Boks winger Cheslin Kolbe said. "I'm sure there's going to be a lot of [talking] about it, but that's things we as players can't control. We just focus on the things we can control, and make sure that we don't get distracted by what's said.
"There is risk added as well, but we are quite fortunate to have players that can play in various positions and do as well as the player that's been selected to start there. We just back each other up whenever we go out on that field and make sure that we play for each other. We support each other, whether it's a good or bad decision." The Boks' innovation doesn't just end with their 7-1 split. Their traffic light-system seen in their opening win over Scotland was put down to monitoring injuries rather than conveying any tactical calls.
"Sometimes in certain games or if the stadium is particularly loud," Boks assistant coach Felix Jones said. "Having a method that we can communicate mostly with the medical staff on the ground."
But that system - and subsequent noise around it - has caught the eye of brands back in South Africa with an advert from beverage company Switch Energy drawing on the young Jacques Nienaber and Rassie Erasmus' use of traffic lights.
Jacques and Rassie have come a long way!! Brilliant @SwitchEnergySA 👏👏! pic.twitter.com/yjxmHOaHKt

— SA Rugby magazine (@SARugbymag) September 19, 2023
Setting the scene in 1990, Nienaber as a school boy is seen rushing into the classroom late for an exam. Struggling with his exam questions he looks out the window to see a school boy, Erasmus, lifting red, green and yellow lights to help answer the questions.
While the plan doesn't end well for the pair at school, (they both end up with a caning), the light system has clearly worked for them at the World Cup; Erasmus has also used the system during his time with the Cheetahs two decades ago, while Nienaber had also embraced it at Munster.
No doubt the ad will rankle some, but you've got to give props to Switch Energy for creating and producing the video in just a few weeks.
Italians march on after first-half Uruguay fright
Italy have maintained their unbeaten record in Pool A, ahead of key clashes with the All Blacks and then hosts France, but not before they were given a scare by a determined Uruguay outfit.
Just six days after they took it to the tournament hosts, the South Americans again showed the growth in their game, taking a 10-7 lead into halftime after two Italian players were yellow carded; Uruguay No. 10 Felipe Etcheverry hitting a long-range drop goal just before halftime to send his team into the sheds smiling.
But Uruguay's own discipline woes brought about their downfall, as Andres Vilaseca was sin-binned for a dangerous tackle; Italy scoring two tries while the centre was off the pitch. And from there it was all the Azzurri as they crossed for two further five-pointers to run out comfortable 38-17 winners.
"The boys are confident, we're ready to take on anyone," Italy winger Monty Ioane said.
"The next two are the biggies. It's an awesome opportunity to go against the best teams in the world. But we are not worried at all as long as we just focus on ourselves.
"The All Blacks have a crazy attacking style, but we have just got to be prepared with our defence. In return, we have a crazy attacking system as well. It's just who turns up on the day."
---
MATCH PREVIEW
France vs. Namibia:
TAB [tab.com.au] France SUSP, -67.5 $1.90; Namibia $67, +67.5 $1.85
This could get ugly for Namibia, like real ugly. France have named almost a full-strength team for Thursday night's clash with the hapless Africans, who could manage only a solitary penalty goal against an All Blacks team missing most of its frontline players in Toulouse last week.
With a week off next week, and then their final pool clash with Italy, Les Bleus clearly want to reestablish the momentum they built against the All Blacks in the tournament opener, after a second-string struggled past Uruguay last Thursday.
Look for France to pile on the points in the first-half, and then wrap stars Antoine Dupont, Thomas Ramos, Matthieu Jalibert and Charles Ollivon in cotton wool after halftime. Still, it won't be a surprise to see Namibia concede 80 points in this one - the ton might also be in trouble.
---
NEWS OF THE DAY
Organisers thrilled with 'spectacular' television numbers
Rugby World Cup organisers have welcomed impressive domestic and international television audiences that far exceed previous editions as the tournament reaches the one-third point of its 48 matches.
In an upbeat Paris press conference on Wednesday, when the night's Italy v Uruguay will be the 17th match to be played, Jacques Rivoal, President of France 2023, said: "There's excitement everywhere -- in the stadiums and TV screens.
"Everywhere, we're exploding the benchmarks that were set in Japan in 2019 and in England in 2015, sometimes 30 to 40% more."
An average of 11.5 million people in France watched last week's France v Uruguay match -- 60% higher than the most-watched Six Nations game this year in France. Around 15 million watched the tournament's opening game between France and New Zealand, with a peak of 17 million. Only the 2011 final between the same teams has had a higher audience.
"It's practically on a par with the World Cup (soccer) final in Qatar between France and Argentina," Rivoal said. "These figures are quite spectacular. We hadn't anticipated such figures and we can only be delighted."
--Reuters
Wallabies' injury ward swells once more
Things are going from bad to worse inside Australia's camp, with a third player going down with injury at training in the space of only eight days.
On Wednesday it was uncapped 19-year-old Max Jorgensen who could not finish the session, with the Wallabies later revealing the first-year professional had suffered a fractured fibula, believed to have occurred when he was fielding a high ball.
After Taniela Tupou and then Will Skelton succumbed to hamstring and calf injuries respectively at training last week, this latest blow has only further raised questions about the Wallabies' regime.
---
TOP FEATURES OF THE DAY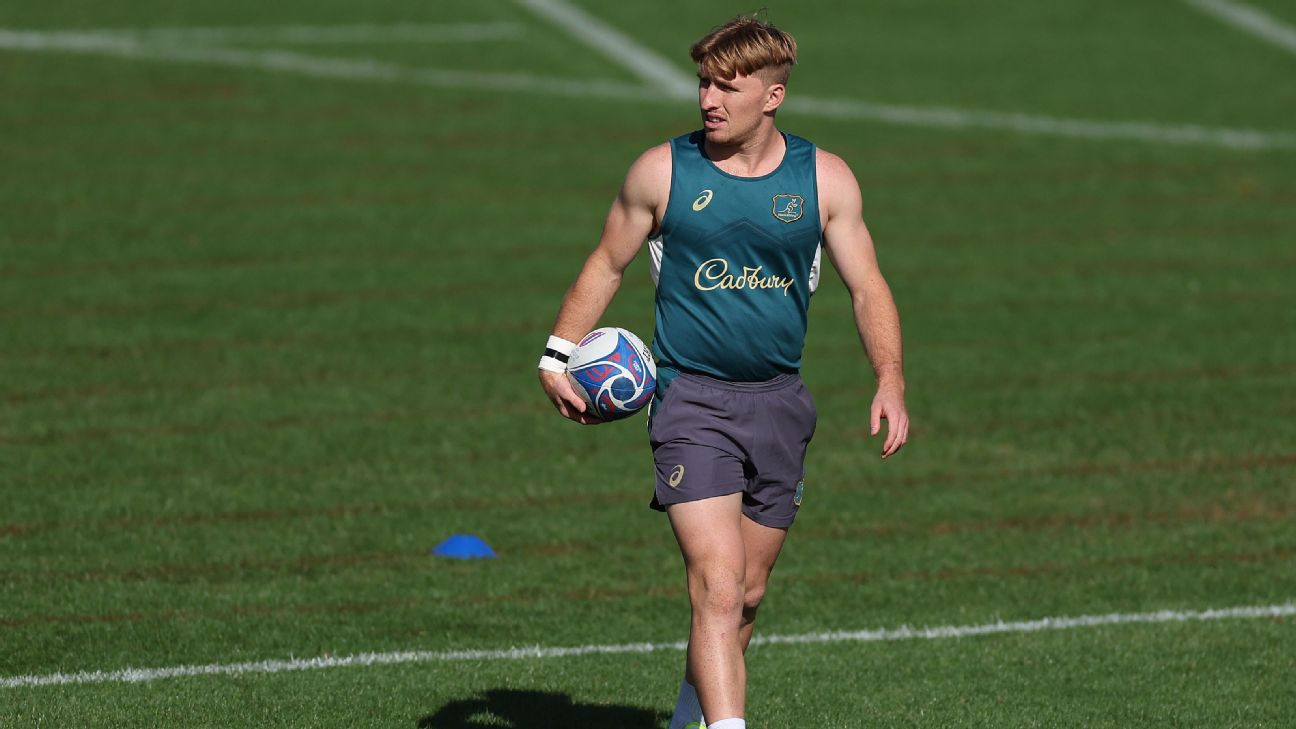 4.30a.m. Eddie texts have Wallabies on edge
The Wallabies say they have addressed their woeful kicking from the shock loss to Fiji, so too the breakdown inaccuracy that contributed to a horror 18-7 penalty count against them, as Eddie Jones peppers his coaching staff with 4.30a.m. texts.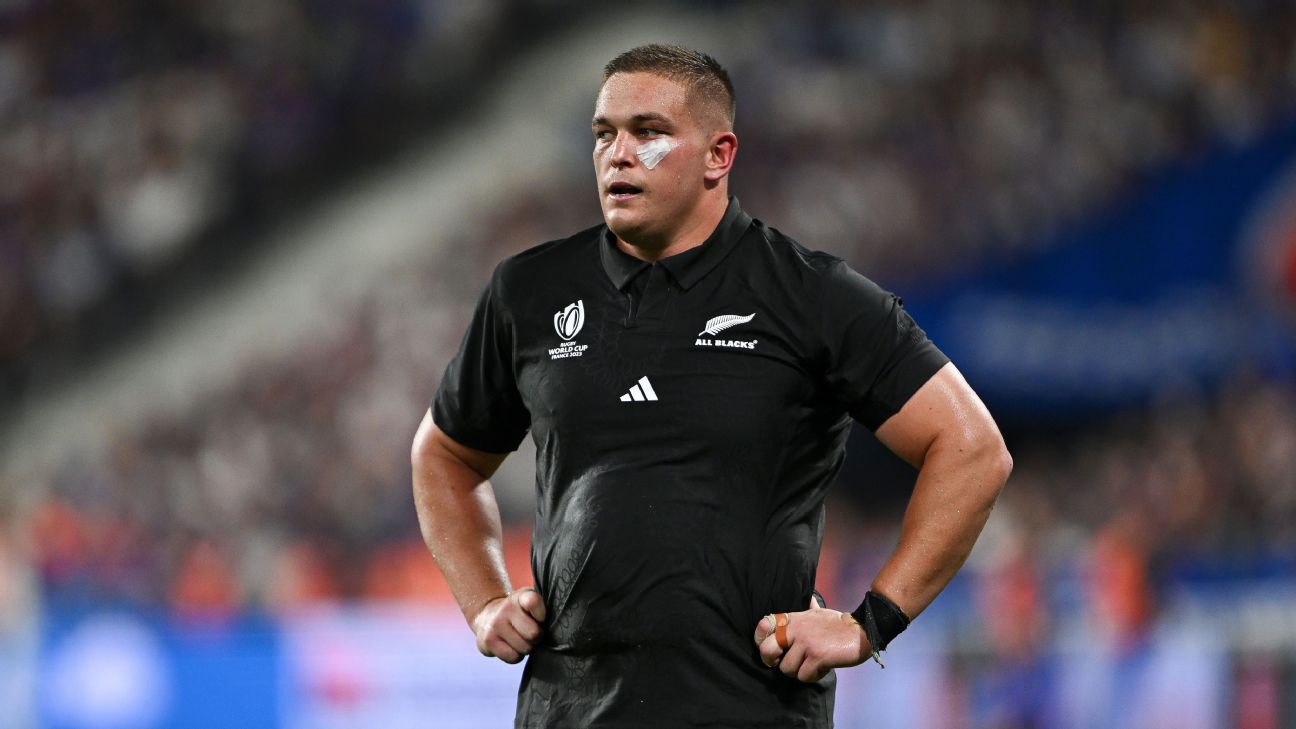 In a World Cup week off for the All Blacks, there is still much to ponder
In a Rugby World Cup where set-piece strength could be the squeeze point axis on which success tilts, the All Blacks propping stocks are again thrust in the spotlight -- Liam Napier writes.