NXT TakeOver: War Games II kicked off four days of action in Los Angeles surrounding WWE's annual Survivor Series spectacular. Ahead of previous major WWE events, TakeOver specials have, on more than one occasion, made the biggest splash of the weekend before the stars of Raw and SmackDown even have a chance to step in the ring -- and War Games II was no exception.
ESPN's Arash Markazi was live inside of Staples Center providing live coverage, with Sean Coyle offering match recaps and ratings throughout the night.
(c) - indicates defending champion
4-on-4 War Games match: War Raiders, Ricochet and Pete Dunne def. Undisputed Era
The main event of NXT TakeOver: War Games II faced a near-impossible task. Not only did it have to live up to the hype of last year's NXT War Games match, to say nothing of the classic NWA and WCW War Games matches of the past, but after a stupendous night of matches, it was going to take a lot to get the fans to give any more of themselves.
For 45 minutes, Undisputed Era, Pete Dunne, Ricochet and the War Raiders each proved their star power by sacrificing their bodies, dazzling fans and telling a tremendous narrative in the ring. Dunne and Ricochet ultimately pinned Adam Cole, but in the big picture, neither Cole nor the Undisputed Era as a whole was a loser on this night in any way, shape or form outside of what's going on within their story.
The potential this time around was just as high, as Undisputed Era, last year's victors, looked to make it two straight War Game victories against a volatile, seemingly makeshift team of four guys they had wronged. As a result of a Kyle O'Reilly win over Hanson this past week on NXT TV, the Undisputed Era earned the advantage headed into tonight's match -- meaning a second member of their team would be the first to enter the match from their respective locked shark cages after the initial five minutes of the match.
Heated rivals Adam Cole and Ricochet began the match for their respective teams and trash-talked from separate rings before connecting with punches, chops and a dropkick by Ricochet. The first big move of the match saw Cole reverse a springboard elbow attempt by Ricochet into a backstabber.
Ricochet fought back, though, in a sequence highlighted by a springboard European uppercut from one ring to the other as the initial five-minute interval expired. O'Reilly entered the match next and immediately began to pummel Ricochet, as he and Cole had three minutes alone with their opponent. A game Ricochet connected with quick strikes to both Cole and O'Reilly but was met with a dragon screw leg whip, ending his comeback attempt. After being beaten down a bit, Ricochet finally got some help as Hanson entered the match next.
Hanson brutalized both O'Reilly and Cole upon entering the cage with a fine display of power and agility. He also showed off his cardio as he ran back and forth across the ring numerous times and caught Cole and O'Reilly with corner splashes. That was followed up with a Ricochet shooting star press off of Hanson's back onto O'Reilly.
The next man to enter the fold was Roderick Strong, who took it to both Ricochet and Hanson with multiple knees, innovative backbreakers and an Olympic slam to Hanson. The Undisputed Era was in complete control, but it was only a matter of time before Rowe entered the match to even the score. He caught members of the Undisputed Era with a number of suplexes and slams upon entry, which allowed his teammates to recover a bit. Rowe executed a combined power slam and power bomb to both Strong and O'Reilly at the same time in an impressive display of power as the war continued.
As O'Reilly and Strong were laid out, Hanson, Rowe and Ricochet teamed up to assault Cole -- but Bobby Fish was soon released into the match. However, instead of heading to the ring, Fish slapped an extra lock onto Dunne's cage and tossed the key into the audience. He then brought chairs, with Undisputed Era logos on them, for good measure, into the match and started wielding them. The team of four tossed the War Raiders and Ricochet around the ring and into the cage like rag dolls.
As the final countdown finished, Dunne desperately tried to bust out of the shark cage to no avail, while his teammates continued to get annihilated, including Strong and Fish executing top rope suplexes to both War Raider members in stereo.
Eventually, the referees found a pair of bolt cutters and cut the lock, releasing Dunne into the match. Dunne snagged a kendo stick from under the ring and regained control for his team. He proceeded to toss multiple trash cans, kendo sticks and even a steel chain into the ring before locking himself into the cage. Ricochet hit a cross body block from the top rope onto all of the members of the Undisputed Era to settle the momentum.
OH MY GOD, @KingRicochet!!! #NXTTakeOver #WarGames pic.twitter.com/dik8XmHYqf

— WWE (@WWE) November 18, 2018
The Undisputed Era fought back and, at this point, advantages were traded back and forth on a single move. As the Undisputed Era surrounded Dunne, the Bruiserweight impressively fought off all four members before the numbers game caught up to him; his already-injured leg was met with a steel chair and an O'Reilly ankle lock (with Strong joining in the submission attempt, wielding a chair in that effort). But Ricochet bailed him out. Dunne and Ricochet then executed a stereo suplex and hurricanrana off the top rope onto two Undisputed Era members.
The first table came into play when Fish speared Rowe through a table stacked up in between both rings. The second table explosion occurred when Hanson splashed O'Reilly through it as he had a triangle choke locked onto Ricochet. All eight superstars were spent at this point, and the crowd began a "this is awesome" chant.
Cole and Ricochet climbed to the top of the cage and started pelting each other with right hands. Cole attempted to push Ricochet off the cage to the outside, which would give the Undisputed Era the win, but he was unsuccessful. The sequence concluded with a seven-person (yes, seven) avalanche suplex/powerbomb to Cole off the top of the cage, back into the ring.
Still on top of the cage, Ricochet took the opportunity to executed a multi-rotation moonsault onto every superstar in the match. Both teams then regrouped in separate rings, met in the middle for what appeared to be one final stand and all hell broke loose. Double-team maneuvers were traded and a flurry of impressive separate sequences occurred. The final blow came when Dunne caught Cole with his Bitter End finisher immediately followed by a 450 splash by Ricochet -- and the two allies-turned-rivals-turned-allies both covered Cole for the win.
The match was full of highlight-worthy spots, high-octane action and brilliant psychological efforts. NXT delivered in every sense of the word on Saturday night, and it will be a tall task for Raw and SmackDown on Sunday at Survivor Series. As the show concluded with Dunne and Ricochet posing on top of the cage with their titles, one thing was immediately clear:
We had just witnessed the best pro wrestling show of the year.
NXT championship: Tommaso Ciampa (c) def. Velveteen Dream
As a result of his villainous turn last year and his gripping rivalry with former tag partner Johnny Gargano throughout this year, Tommaso Ciampa has become the face of NXT. While his conflict with Gargano remains unresolved, he faced a new challenge at TakeOver.
The ultra-charismatic Velveteen Dream, who donned Hollywood Hogan-style attire on Saturday night, has captured the support of the NXT audience by way of his undeniable magnetism and has backed it up in the ring -- but Saturday's event was undoubtedly the biggest match of his young career. At several different moments it appeared as though Dream could become the NXT champion, and the crowd fully bought into the idea.
Though it ultimately wasn't his night, it would be impossible to deny his potential.
The title match at War Games began methodically, until Dream caught Ciampa with a slap to the face. Ciampa removed Dream's "Hollywood" headband and taunted both him and the crowd. Dream responded by snagging the NXT title and regaining the mind game advantage.
Dream gained the in-ring advantage as well with a series of maneuvers, including a picture-perfect standing dropkick. He then attempted to perform Hogan's signature boot to the face, leg drop finishing sequence, but Ciampa rolled out of the ring. The champ managed to turn the tide when he pushed Dream over the top rope and outside of the ring. He followed that up back inside the ring with a stiff knee to the face of Dream and a hangman's neck breaker across the top rope. Ciampa was in full control.
Dream fought back with a neck breaker of his own and finally connected with the Hogan boot/leg drop finishing sequence. He nailed three Hogan leg drops, in fact, and kept his foot on the gas as he targeted Ciampa's surgically repaired right knee. Dream locked in a figure four wrapped around the ring post, à la Bret Hart, and caused Ciampa to tap out.
Though due to the illegal nature of the move, the match did not end.
Dream was able to lock in the figure four inside the ring, and the two men reversed each other a couple of times before making their way to the ropes for a break. As Ciampa attempted a suplex, Dream reversed it and suplexed both he and Ciampa to the outside of the ring as both men spilled out to the outside.
Back inside the ring, Ciampa attempted a roll-up, but pulled Dream's trunks in such a way that the referee alertly stopped the count. Dream quickly recovered with a strike and his patented sideways Dream Valley Driver, but Ciampa kicked out of the ensuing pinfall attempt. Ciampa responded with his Project Ciampa powerbomb back breaker, but Dream managed to kick out. The back and forth action was in full force.
A frustrated Ciampa brought the NXT championship inside the ring. As the referee pulled it out of his hands and dropped it to the ground, Dream caught him with a twisting DDT onto the title. Dream covered Ciampa in what seemed as though it could be the end of the match, but Ciampa kicked out to the dismay of an amped up Los Angeles crowd.
On the outside of the ring, a still-frustrated Ciampa pulled up the protective mat, exposing the concrete. As he looked to hit a DDT onto the concrete, Dream drove him backward onto and over the announcers table as chaos spilled all over ringside.
As a distracted Ciampa yelled at Mauro Ranallo on commentary, Dream caught him with another Dream Valley Driver on the outside, quickly rolled Ciampa into the ring and nailed a Purple Rainmaker elbow. That would surely end the match, right? Nope.
Ciampa managed to kick out yet again, and regain the advantage. A flying elbow attempt to a prone Ciampa, who was draped over the apron, failed and derailed Dream's title hopes.
Ciampa eventually did execute the draping DDT he was looking for, but it wasn't on the concrete. He nailed it onto the steel plate connecting the two rings for the upcoming War Games match, and that was all she wrote.
They had a tough match to follow but did so with flying colors. While it seemed likely at the outset that Ciampa would walk out of TakeOver with the gold, the near-falls were truly believable. Ciampa will continue his crusade as champion.
Could this the end of the road for Dream in NXT? Is he main roster bound? It's an enticing possibility, but there's plenty of directions his career can go in moving forward.
Aleister Black def. Johnny Gargano
The question of who attacked Aleister Black over the summer was answered emphatically a few weeks ago with a swift kick by Johnny Gargano to Black's jaw. With that kick, a dramatic character transition happened before our eyes, as Gargano's turn to the dark side reached a new level.
The expectations for this match were unbelievably high, and two of the most accomplished performers ever to step into an NXT ring did not disappoint.
A win in this match would have done wonders for either Black and Gargano. For Black, he was looking to make an impact in his first match back from injury and put himself back in NXT championship contention. Gargano, who was coming off two straight TakeOver losses to Tommaso Ciampa, needed this win to get back on track.
The grudge match, as Mauro Ranallo called it on commentary, began with a slap from Gargano to Black. Black responded with an even stiffer slap and went to town on Gargano. The two traded strikes as Gargano busted out a very dark, evil smile -- attempting to get into the head of Black. Strike city continued on both sides with some vicious kicks flying in either direction.
Wrestling entered the picture eventually, though, as Gargano began utilizing submissions and pinfall attempts, allowing him to gain the advantage. Black responded with a knee to the gut, a foot to the face and a dive to the outside of the ring onto Gargano as the seesaw battle continued.
Minutes later, Black attempted a moonsault to the outside of the ring, but Gargano moved and nailed a beautifully innovative suicide dive/DDT combo onto Black -- followed by another DDT inside of the ring. Gargano began talking trash, which turned into a thrilling flurry of back and forth strike-heavy offense by both men. They had the Los Angeles crowd in the palms of their hands at this point, and rightfully so. "This is awesome" chants broke out following combination offense by Black that included knees, kicks and a German suplex.
Gargano managed to lock in the Gargano Escape, but it was short-lived as Black reversed it into an unsuccessful pinfall attempt and the battle continued. Gargano then set Black up for a kick to the face while Black begged him to give it his best shot. Black ducked the attempt, but Gargano managed to catch him with a knee shortly after. Cue the "fight forever" chants.
The exhausted combatants, again, traded strikes from their knees, rose to their feet and continued until Gargano tossed Black over the top rope. As Gargano attempted a suicide dive, Black nailed him perfectly in the jaw with a knee.
Back inside the ring, Gargano begged for mercy -- or for Black to simply end the punishment. As Black attempted his Black Mass spinning heel kick, Gargano ducked and turned it into another Gargano Escape submission. Black escaped, pulled down his kneepad and nailed a devastating three-strike combo -- a spinning knee, a leaping knee and Black Mass to the face. After shouting that he had absolved Gargano of "all of his sins," one more Black Mass and the match was over.
Good luck, not only to the rest of the NXT superstars Saturday night but to those performing at Survivor Series on Sunday, in following this match. Black picked right up where he left off before his injury, but where does Gargano go from here? After three straight TakeOver losses, one would expect Gargano's turn to the dark side to become even darker. Time will tell.
There have already been multiple standing ovations for Aleister Black and Johnny Gargano during this match.
Two out of three falls for the NXT women's championship: Shayna Baszler (c) def. Kairi Sane (2-1)
The longest and most storied rivalry in NXT women's division history reached what's likely to be its closing chapter on Saturday night. Both Shayna Baszler and Kairi Sane have reached the pinnacle of their NXT careers during this yearlong-plus rivalry, and Saturday's outcome likely shed quite a bit of light on their respective directions.
Sane wasted no time in unleashing her attack. As soon as the bell rang, she charged at Baszler, looking for that all-important first fall. Sane dominated the initial sequences with strikes, forearms and an elbow from the apron to the outside of the ring.
However, as Sane attempted to make her way back into the ring, Baszler's cohorts Jessamyn Duke and Marina Shafir -- just as they did at TakeOver: Brooklyn IV -- emerged, and Duke tossed Sane into the ring post. That allowed Baszler to lock in the Kirifuda Clutch for the first fall. Baszler led 1-0.
Baszler continued to put pressure on Sane as the match continued, thwarting Sane's attempted comebacks with strikes, including a stomp to the face and multiple submissions.
Sane tried to make things interesting with a series of quick pinball attempts, but none of them was successful. A strikefest ensued, and it was all out war at this point. Sane's next move was much more effective, though. As Baszler attempted a suplex on the ring apron, Sane reversed it into a spike DDT that received one of the biggest reactions of the night to that point. Sane then fought off Duke and Shafir, allowing Sane to deliver an elbow drop from the top rope to the outside on all three Horsewomen in attendance. She rolled Baszler back into the ring, delivered an In-sane elbow and picked up the second fall of the match. Score tied 1-1.
The battle continued, which included a series of three straight interceptor spears and a sunset flip powerbomb off the top rope by Sane. As she ascended the top rope, however, Duke and Shafir once again attempted to interfere. That brought out both Dakota Kai and Io Shirai to even the score. As Shirai hit a moonsault onto Duke and Shafir, Sane once again attempted an insane elbow onto Baszler. As Sane descended, Baszler caught her in an unexpected crucifix pinfall attempt and managed the three count. Baszler won 2-1.
What a match. This likely sets up a six-person tag match down the road, but for now, Baszler remains atop the NXT women's division.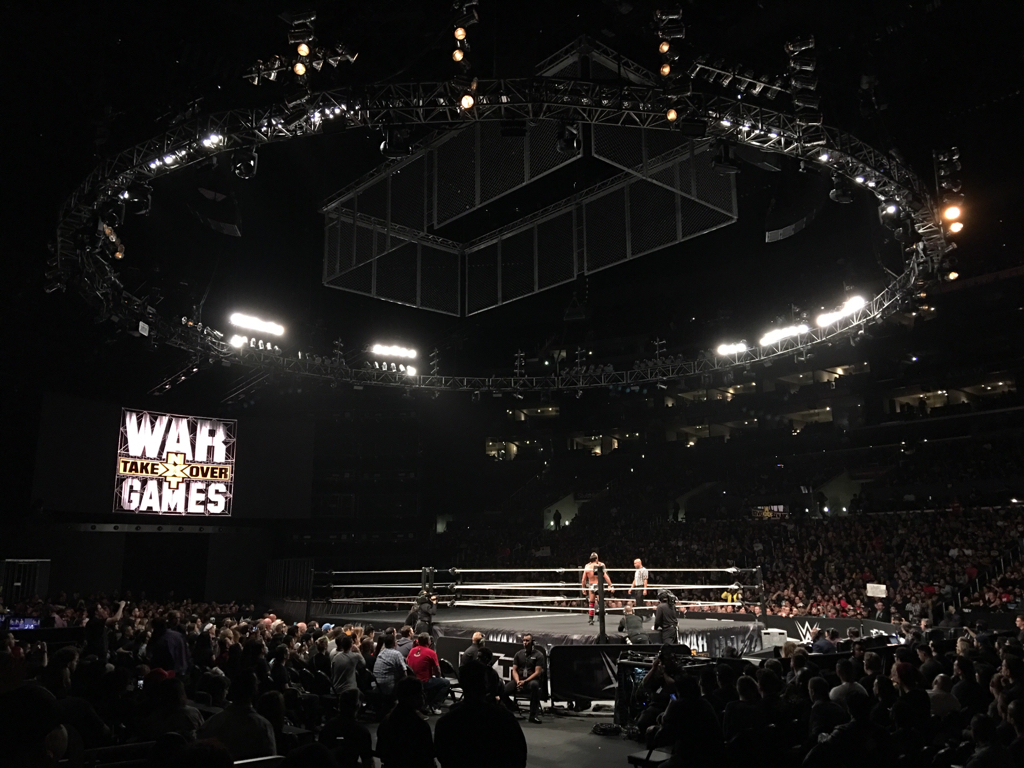 I love the old school feel of NXT TakeOver: WarGames. It feels like an old house show.
Matt Riddle def. Kassius Ohno
TakeOver: War Games II kicked off in unexpected fashion, as NXT newcomer Matt Riddle made his way to the ring. He was scheduled to take on Kassius Ohno on this coming week's edition of NXT TV, but instead, put out the challenge tonight. Ohno obliged, but as Ohno entered the ring and the bell rang, he was caught with a knee to the face as Riddle picked up a quick one, two, three.
Well, that's one way to open the show. It would have been nice for Riddle to be able to showcase his impeccable wrestling skills on tonight's big stage, but it was a statement nevertheless.