The 32nd edition of WWE Survivor Series was held at Staples Center in Los Angeles. Over the past week, there have been changes aplenty, as Becky Lynch's injury led to a Charlotte Flair-Ronda Rousey match, and Daniel Bryan's WWE championship win Tuesday set up a dream match against Brock Lesnar.
After a 10-on-10 traditional Survivor Series elimination match on the kickoff show, Raw and SmackDown will battle in 5-on-5 men's and women's elimination matches as well.
Arash Markazi was live in Los Angeles throughout the night, with Sean Coyle, Tim Fiorvanti and Matt Wilansky recapping the action match by match.
(c): indicates champion
Bold: indicates survivor(s)
Universal champion vs. WWE champion: Brock Lesnar def. Daniel Bryan
The main event of Survivor Series was a tale of three sections. It started with Daniel Bryan dancing around the ring and antagonizing Brock Lesnar, seemingly trying to set Lesnar up for a stick and move approach. Then Lesnar finally got his hands on Bryan, landed a very real and uncomfortable-looking suplex that dropped Bryan on his head and spent the next 10 minutes suplexing, bear hugging and F-5ing Bryan all over the place.
It all had the same feeling as Lesnar's 2014 SummerSlam destruction of John Cena, but as fans got quiet and the question of what the heck was going on grew louder, the third act kicked into gear -- and it was from that point on that Bryan and Lesnar put on one heckuva show to close out Survivor Series. To the great shock of most fans watching the show, Bryan had two or three moments when it genuinely seemed like he was about to pull off a monumental victory.
Lesnar won, in the end, but it somehow felt as though he escaped with the win rather than earned it -- a rare moment indeed during this run in his career.
Few knew what to expect from Bryan coming into this match, as it was his first appearance since his WWE championship win and subsequent postmatch attack on AJ Styles. Even an attempt at an interview backstage was unsuccessful. On the surface, Bryan is supposed to be a bad guy, but then again, so is Brock Lesnar, who has been the undefeatable Universal champion who shows up only when he wants to, to the dismay of most of the crowd.
As was the case for most of Survivor Series, heel and face demarcations largely faded into the background. There were moments when villainous traits came out for both Lesnar and Bryan, but by and large the Staples Center crowd was behind Bryan and against Lesnar.
Bryan's plan to sweep in for the leg and attempt to stick and move worked in the embryonic stages of the match. Bryan even rolled out of the ring and tried to get Lesnar to lose his cool. He stalked the outside of the ring and got Brock to slide out and chase him, and thus Bryan immediately slid into the ring and celebrated. Poking the bear ended poorly, though. Brock checked a kick and clotheslined Bryan, and from there, it was off to the races. A dangerous-looking release suplex dropped Bryan on his head and neck, both areas of concern that previously interrupted Bryan's career. A second German suplex looked not quite so bad, but the arena grew quiet as Lesnar suplexed Bryan all over the ring with seemingly no regard for his opponent's well-being.
There were bear hugs, too, and overhead release belly-to-belly suplexes to mix it up. Lesnar threw Bryan into the barricade, bearhugged Bryan, nailed a spinebuster, German suplexed Bryan again and turned another bear hug into a suplex.
Finally, Lesnar seemed to attempt an F-5. He shouted, "Good night, everybody," nailed his finisher and went down for the pin. The ref counted 1, then 2, but then Lesnar picked Bryan up by the hair to break the count and ragdolled him back down to the ground.
Lesnar soaked in the crowd's anger, but as he bent down to pick Bryan up, Bryan finally showed some signs of life. He got one upkick to Brock as the larger man reached down and then a second. A perturbed Lesnar put Bryan up for another F-5, Bryan's feet swung into Mike Chioda's head, and Bryan saw his window.
A low blow followed by a running knee brought the crowd up from out of nowhere -- and Bryan got a two-count on Brock before Lesnar swung his shoulder back up.
Kicks to Lesnar were followed by stomps to Brock's head and neck. Bryan went for another running knee and missed, and Lesnar got Bryan up for a second F-5. This time, Bryan countered and dodged Lesnar's attempt at a clothesline, which caused Lesnar to fall out of the ring. Bryan went flying out of the ring, only for Lesnar to catch him, but Bryan escaped yet again and sent Lesnar into the ring post. Bryan followed it up with a flying knee from the apron to the outside and then rolled back into the ring with a burst of momentum behind him.
A suicide dive attempt got caught, though, and Lesnar sent Bryan back-first into the post twice. It appeared as though Lesnar had turned the tide against Bryan once again, but as Lesnar swung the steel steps toward a prone Bryan propped up against the ring post, Bryan moved, and Lesnar injured himself.
The two battered men traded shots on the outside, but as action spilled back into the ring, Bryan hit a second running knee -- but Lesnar narrowly kicked out again. Heyman sold the hell of it on the outside, and the crowd could not have been more invested in a match they had seemingly given up on just minutes earlier.
Bryan chop-blocked Lesnar's left leg, then wrapped that same leg around the post. He went for his patented dropkicks in the corner, but on the second effort, Lesnar caught Bryan for an F-5 -- only his leg gave out and set Bryan up perfectly for the Yes Lock.
Brock broke the hold, but Bryan rapped Lesnar hard across the face with a bunch of forearms and hook shots. He got the Yes Lock back on for an extend stretch, and for just a moment, it seemed the crowd thought they would see an unthinkable submission victory over Lesnar. After bodies shifted around, Bryan tried to transition into a triangle choke, but Lesnar picked Bryan up and nailed a second F-5 to win the match.
Every once in a while, Lesnar and his opponent become equally invested in a match. Just as he did against AJ Styles last year at Survivor Series, Lesnar's match against Bryan showed just how good Lesnar can be in the ring with the right opponent. Each champion has the next opponent lined up, but with the crazy smile on Bryan's face and Lesnar's rare nod of acknowledgement for Bryan as the show went off the air, both of these guys might be prepared to run this match back at some point in the future -- and we'd all be better for it.
Ronda Rousey def. Charlotte Flair via disqualification
Charlotte Flair is many things. She's a multi-time champ, incredibly talented and arguably on her way to being the GOAT of women's wrestling.
But deranged and a loose cannon?
She is now. Amid a scintillating, memorable champ versus champ match against Ronda Rousey, Charlotte lost her mind. Deep into the bout, one that Charlotte had the upper hand in for the most part, she grabbed a Kendo stick and annihilated Rousey, over and over and over.
The bell rang. Charlotte was disqualified. But she didn't care. She nailed Rousey with a Natural Selection onto the chair. Charlotte then attacked four officials and put Rousey's neck between the chair and stomped on it. Absolutely brutal. What happened to Charlotte? She flipped like Becky had on her a few months before, like Daniel Bryan did on AJ Styles just the other day.
To say this was a surprise turn of events in a match that could have been the main event at any pay-per-view is an understatement. But in many ways, this was the right call. Charlotte has played a more straight-laced performer, and since losing the title, she has had this woe-is-me thing going on that wasn't working -- especially with the ascent of Becky.
That Charlotte is no more.
Believe it or not, Rousey, the most-talked-about performer as it relates to garden-variety sports fans since she made the announcement that she was joining WWE close to a year ago, was merely a backdrop in the Charlotte saga on Sunday.
Rousey has made a beeline up the Raw ladder, all the way to the championship, which she won in August at SummerSlam. But she was running into a problem. No one on the Raw roster is on the same level as she is when you factor in her pedigree and popularity.
But then there's Charlotte. She's on the blue brand, far away from Rousey, but more than anyone -- and that includes Becky -- the only woman who could possibly stop the Rousey train.
After all, it was Charlotte, who took down a then-undefeated Asuka at WrestleMania this year, ending one of the great win streaks this business has seen.
On Sunday, Charlotte was the aggressor for the first part of the match. She was both overpowering and technical while letting out more than a few verbal volleys toward Rousey.
The Raw champ had blood pouring from her mouth and looking helpless for the first time since joining the business. It was a slugfest, and Rousey was losing.
But perhaps Charlotte's biggest enemy was herself. She prematurely went for a moonsault, but Rousey dodged it and began to turn the tide. Then things got really good. Rousey landed lefts and rights. Charlotte countered by slapping the stuffing out of Rousey. The crowd was feeling it. The blood had made its way onto Rousey's chest and was strewn across the ring. That's when Charlotte lost her mind.
This story will continue. Typically, disqualifications and count-outs leave a bad taste in our mouths. But not in this case. If this is the new Charlotte, we're in for a treat, and Rousey, whenever the next matchup might be, could be in for even more punishment.
Men's 5-on-5 elimination match: Team Raw (Braun Strowman, Dolph Ziggler, Drew McIntyre, Finn Balor, Bobby Lashley) def. Team SmackDown (The Miz, Rey Mysterio, Samoa Joe, Shane McMahon, Jeff Hardy)
If it wasn't clear through the women's 5-on-5 elimination match and Seth Rollins' victory over Shinsuke Nakamura, the main driving force at Survivor Series seems to be driving forward some stagnant story lines on Monday Night Raw, at the expense of SmackDown.
Aside from The Miz repeatedly putting Shane McMahon into harm's way, which should have some fallout in the weeks to come, Braun Strowman's conflict with Baron Corbin, Drew McIntyre and the bulk of the Raw locker room took center stage in the men's 5-on-5 elimination match on Sunday night. After he did a lot of the heavy lifting in the match, notching the last four eliminations for the Raw team, Strowman was quickly attacked by Corbin, as the acting Raw GM sought to escape the attack due to him the second the bell rang to end the match.
Still, it's a better fate than Samoa Joe and many others faced at Survivor Series. After Braun Strowman and Drew McIntyre battled to start the match for Raw against Samoa Joe, Strowman won the battle of wills. McIntyre blindly tagged himself in, though, and he nearly fell directly into a coquina clutch. Joe nearly locked the clutch on a second time, but after McIntyre rolled through, he landed a Claymore kick right on the button, and just a few moments into the match, Samoa Joe was a strangely quick casualty.
The crowd immediately made their feelings known in a not quite so polite way. Raw nearly got its second elimination as Dolph Ziggler hit a Zig Zag on Shane McMahon, but Miz ran in for the save. It begged the question as to why no one in the tag team or women's matches did the same earlier in the night and why they didn't also try to save Samoa Joe.
Braun tagged in, only for McIntyre to tag in blind yet again. This time the two giants swung on each other, and the ensuing chaos left Braun to fend for himself. It started with a 619 by Mysterio and ended when McMahon hit a diving elbow drop from the top turnbuckle through Strowman on the commentary table.
Balor offered to help a dazed McIntyre, but Drew refused to tag out. Balor eventually blind tagged himself in and then kicked Drew in the face for good measure, sewing even more chaos into the Raw team. Balor crushed both The Miz and Jeff Hardy and then went to battle with Mysterio. After he missed a 619, Mysterio ate a slingblade from Finn Balor, which set him up for the coup de grace. Mysterio countered Balor's finisher, however, moved the action to the other side of the ring and nailed a 619 to eliminate Balor.
Mysterio set Drew McIntyre up for a 619 too, but Bobby Lashley blind tagged in and then ragdolled Mysterio all over the place. He eventually tagged out though, and Hardy ended up face to face with Ziggler. Hardy hit a Twist of Fate, but his effort at a Swanton bomb hit Ziggler's knees.
Miz egged McMahon on, and SmackDown's commissioner hit a coast-to-coast on Ziggler. With his second pinfall over Ziggler in three weeks, McMahon gave SmackDown the numbers advantage once again.
Lashley came in and suplexed Shane all over the place, but after Miz helped turn the tide, Miz once again got Shane McMahon to hobble up to the top rope and attempt a coast-to-coast on Lashley. This time, however, Strowman popped up out of nowhere and clotheslined McMahon out of the sky.
It was pretty simple from that point on. A Braun Strowman powerslam to eliminate Jeff Hardy. A 619 countered into another powerslam to knock out Mysterio. As Miz and McMahon tried to regroup, Miz left McMahon out to dry once more as Strowman trucked the SmackDown commissioner at full speed. Miz quickly got a knock of his own from Strowman, though, and a powerslam and pinfall loss were waiting for him as well.
A battered McMahon motioned to Strowman for the giant to bring it on, and Strowman complied. A running low dropkick sent McMahon crashing into the corner, and one final powerslam gave Strowman four straight eliminations to end the match. Strowman has both a Universal championship opportunity and a free shot at Corbin in his future, and Raw went up 4-0 on the pay-per-view (4-1 if you count the kickoff show). Even as SmackDown has picked up momentum, largely thanks to Becky Lynch, it's hard to look at this match and Survivor Series to this point and not think that Raw is still the flagship program in the eyes of the WWE's powers that be.
Cruiserweight championship Buddy Murphy (c) def. Mustafa Ali
Buddy Murphy isn't the most well-known superstar and not just because he is in the cruiserweight division. He did not have his defining moment until October at Super Show-Down in Australia, when he beat longtime champ Cedric Alexander. But Murphy has all the requisite tools to thrive in this division. He has the look, the attitude, the in-ring skill set -- and the power.
The truth is, no matter how qualified and talented his Survivor Series opponent, Mustafa Ali, has been, the timing just wasn't right. He has been patient in waiting for another shot since falling to Alexander and WrestleMania.
Ali and Murphy had a heated rivalry earlier in the year, and to the delight of anyone who likes high-octane feuds, it was rekindled.
It didn't take more than a minute or two before Ali showed off his aerial tactics with a 360 over-the-ropes dive on Murphy, but the champ turned the tide almost immediately by shoving Ali off the middle rope and into the barricade, a move that resulted in a major reaction from the crowd.
Murphy was simply on fire from there. He, too, flipped over the rope and landed on Ali and then bullied him around the ring with his sheer power. At one point he pretty much deadlifted Ali and tossed him over the rope like a ragdoll. The two traded high-risk maneuvers for the entirety of the match, but the Spanish Fly from the announce table and onto the floor got the crowd going again.
Once the two were back in the ring, Ali was poised to hit his 054, but Murphy got up and ultimately pulled his opponent from the ropes and hit his Murphy's Law finisher.
Hopefully, this was the platform Murphy needed to get some more recognition. He deserves it.
Raw tag team champions vs. SmackDown tag team champions: Authors of Pain def. The Bar
While there was no build heading into this RAW versus SmackDown tag champion match, AOP and The Bar are two of the most physical teams on either roster. What was lacking from a story perspective had the potential to be made up from an in-ring perspective with the added wild cards of the Big Show in The Bar's corner and Drake Maverick by AOP's side. Unfortunately, the result was lackluster.
As expected between two power teams, the pace of the match was relatively slow, especially early. The generic tag team formula was utilized as AOP, who worked as heels, beat down Cesaro, who attempted to make the hot tag.
Cesaro eventually reached Sheamus, who unleashed a flurry of knees and forearms on both members of AOP. Sheamus caught Rezar with a Brogue kick, but as he covered him, Maverick intervened and placed Rezar's foot on the bottom rope, breaking the count. As Maverick attempted to flee the scene of the crime, he was caught by the Big Show, which brought about an unusual situation.
As Big Show wrapped his hand around Maverick's neck, a petrified Maverick seemingly urinated. That was enough of a distraction to allow AOP to capitalize and catch Sheamus with a suplex/power bomb combination for the win.
The problem with this match was that while AOP worked as heels, both teams are heels on their respective shows, so the crowd reaction when The Bar made the comeback left a lot to be desired. The end result was a generic tag-team match with an odd final sequence.
Now that that's over, both teams can go their separate ways.
Intercontinental champion vs. United States champion: Seth Rollins def. Shinsuke Nakamura
For all of the "first-time-ever" matches the WWE has put on the past couple of years, many didn't live up to all of the hype.
It's safe to say that Shinsuke Nakamura and Seth Rollins went out of their way to buck that trend, putting together an intensely physical match that picked up even more in the late stages of the match and got the crowd fired up early in the night.
Under the right circumstances, Nakamura-Rollins could've been a main event earlier this decade inside of a certain American Legion Post about 30 miles north of the Staples Center on the 405, and no one would've batted an eye. Although Rollins ultimately walked away with the victory on this night, in a match with no particular stakes, he and Nakamura gave fans a taste of a rivalry that could easily thrill on Raw or SmackDown in the future.
The action started slow, as each man felt out his opponent and tried to gain the mental edge on the other. Even before everything started to pick up in a big way, Rollins hit a fame-asser on the apron -- only for Nakamura to make Rollins change directions on a suicide dive attempt and nail Rollins in the head with a high-arching kick.
Nakamura dominated the early stages of this match, keeping the action in the corner and near the ropes as he ran through quite a bit of his signature offense. Rollins eventually caught Nakamura prone and tossed him head-first out of the ring. From there, Rollins hit a pair of suicide dives and, at the behest of the live crowd, landed a third.
Even upon getting their request granted, the crowd was a little tepid for this match at its midway point. That seemingly inspired Rollins and Nakamura to pick it up from a physicality standpoint. A one-legged backstabber for Nakamura got the crowd's attention, but it was the superkick that Rollins landed as Nakamura slid in that (which landed as flush and violently as any kick Rollins has ever thrown) that really started to bring the crowd up.
Nakamura was able to show off some of his slick MMA-style submission transitions, and Rollins managed to nail his patented superplex into a falcon arrow combination. Nakamura responded with a Landslide, Rollins hit a ripcord knee, and it was full steam ahead to the ending.
Rollins missed a frog splash, and Nakamura hit a running knee to the back of the head, which got him the first believable two-count of the contest. They wrested control from one another, and Nakamura set up for a proper Kinshasa. Rollins countered that into a superkick and a low kick hit, only to miss the stomp. Nakamura missed a Kinshasa a second time, and Rollins hit the stomp and got the clean pinfall victory.
It was something of a surprise that Dean Ambrose didn't get involved either during or after the match, but it worked out well in the end. Rollins picked up the victory, and though Nakamura still hasn't had much of a signature win to show since he won the United States championship, he once again proved what he's capable of when given the spotlight.
Women's 5-on-5 elimination match: Team Raw: (Mickie James, Nia Jax, Tamina, Bayley, Sasha Banks) def. Team SmackDown (Asuka, Carmella, Naomi, Sonya Deville, Mandy Rose)
There was high drama even before the women's Survivor Series match began. Charlotte Flair was taken off the SmackDown squad this past Tuesday so she could instead fill the shoes for an injured Becky Lynch and take on Ronda Rousey. In Charlotte's place was Mandy Rose. Hardly an upgrade but still a formidable upcoming foe, as she showed in the match.
Despite the changes, SmackDown had the physiological advantage after a Becky-led attacking of Raw to close out the show Monday. Sure, it might have backfired with Becky's injury, but the blue team showed that it was going to be the aggressor.
It didn't take but a minute into the match before an all-out brawl broke out. From there, Tamina immediately eliminated Naomi seconds before Carmella took down Tamina and gave us -- you guessed it -- a dance break.
As the match wore on, Rose, Bayley and Sonya Deville had standout moments, but all were eliminated. Asuka -- last year's sole survivor -- was left all alone for SmackDown taking on the formidable duo of Sasha Banks and Nia Jax.
But wouldn't you know, Jax, who was getting massive heel heat throughout the match due to her injuring Lynch on Monday, shoved teammate Banks off the top ropes, and Asuka immediately made her tap with an Asuka lock.
Asuka was spent, though. Jax came in and pummeled her SmackDown opponent before pinning her and standing in the ring as the sole survivor.
In the end, it was not all that surprising that Jax stood tall. She is, after all, Rousey's next opponent once Survivor Series ends. It's hard to imagine any women on the Raw roster who has enough star power to match up with Rousey.
That's where Jax comes in. Judging by the reaction she garnered and the fact that she was the only woman who left in the opening match of Survivor Series, this was a good start.
---
Kickoff show: 10-on-10 tag team elimination match: Team SmackDown (The Usos, New Day, SAnitY, Gallows & Anderson, The Colons) def. Team Raw (Bobby Roode & Chad Gableg, The Revival, B-Team, The Ascension, Lucha House Party)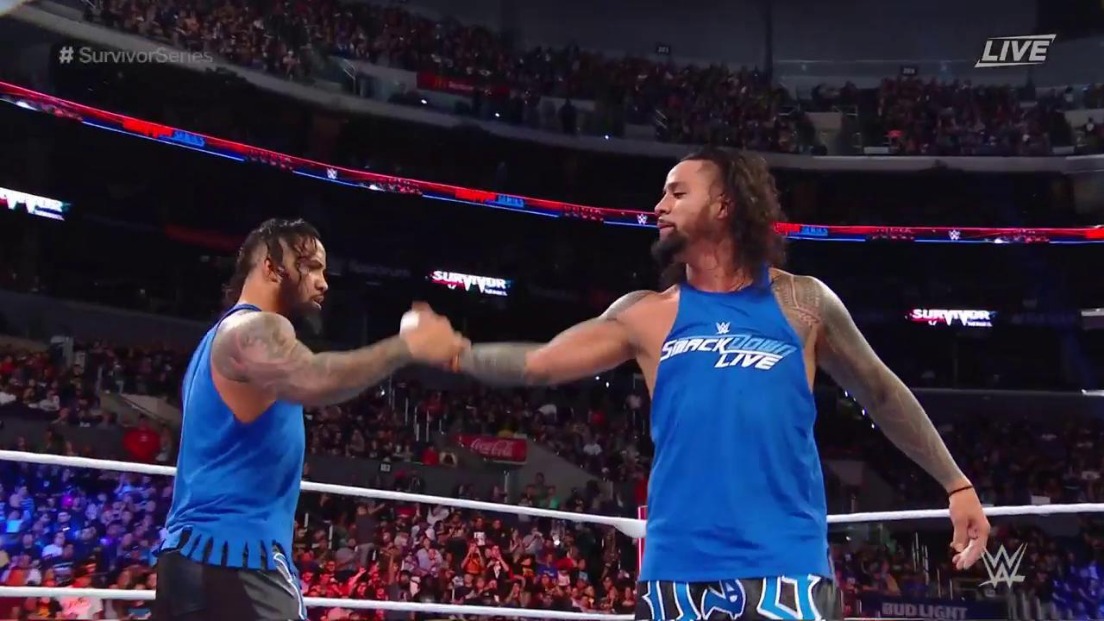 SmackDown Live scored the first win of the night on tonight's Survivor Series kickoff show when they defeated team RAW in the 10-on-10 tag team elimination match with the Usos as the sole survivors. The match had some rough moments, but the innovative spots made up for it. Chad Gable shined on multiple occasions including an impressive feat of strength when he utilized a wheelbarrow suplex on Big E into a neck breaker by Bobby Roode. The match ended with a Jimmy Uso splash, which included an homage to Roman Reigns, onto The Revival's Scott Dawson.