Shayna Baszler beat Becky Lynch and Bayley in the main event of Survivor Series, capping a lopsided night in which NXT won the most matches and stole the spotlight in the matches they lost.
Baszler, Lynch and Bayley each built something for themselves over the past couple of years, but this main event match never quite reached the energy or potential that seemed possible in the buildup to Survivor Series.
Ultimately, it was about two key points. Baszler earned a submission victory over Bayley and Lynch stifled Baszler's celebration by dropping her through an announce table with a flying leg drop.
This match didn't fall short because of a lack of effort, and the pieces were in place at the outset to make this something special. A tense standoff to start the match felt as though the three were soaking in the moment, with all manner of history and tension hanging over the proceedings. There's still-lingering tension between two groups of women calling themselves the "Four Horsewomen" and Lynch's controversial win over Ronda Rousey in the main event of WrestleMania will always be in the background until Rousey returns to the ring.
Each had individual motivation as well: Bayley feeling perpetually overlooked; Lynch unwilling to rest on her success; Shayna, exuding endless swagger, feeling herself and eager to prove that she's the best of the bunch.
The energy spiked in a few key moments. Lynch hit a top rope leg drop and locked in a Dis-arm-her attempt on Bayley, only for Baszler to break it up.
There was a Bayley to Belly on Baszler, out of nowhere, Baszler grabbing Bayley off the apron into a Kirofuda clutch and a second rope powerbomb from Lynch to Baszler. Lynch tried her luck with submissions against a catch wrestling master in Baszler, but was unsuccessful.
But no matter what each of them attempted to do to draw reactions from the crowd, positive or negative, the audience never consistently bought into the match. Lynch was eventually tossed over the primary commentary table, and Bayley and Baszler scrambled back into the ring. There was a back-and-forth struggle, and despite a devastating-looking backdrop suplex, a top-rope flying elbow from Bayley landed her directly in Baszler's clutches.
The Kirofuda clutch brought the match to a shockingly fast conclusion and Baszler lifted her NXT women's title into the air in her moment of ultimate triumph.
Even if the match didn't quite hit its mark, it built to the postmatch scuffle that will likely have legs into 2020. Lynch rose from her crumpled heap behind the commentary table and ruined Baszler's big moment. It was Lynch's music blaring from the speakers at the Allstate Arena at the end of the night despite the fact that Baszler and NXT as a whole had dominated the evening and the conversation.
It wasn't the end of a story by any means, and whether that means the story will carry on through the next few weeks or hit pause until some key moment is anyone's guess.
What's next: Baszler has immediate issues to deal with against Rhea Ripley, another breakout star of the NXT invasion. I imagine that'll take precedent, but Baszler and Lynch will be face-to-face again soon. And don't be surprised if this injustice is enough to summon Rousey from her remote location, potentially setting up a long-awaited clash of the Four Horsewomen.
WWE championship: Brock Lesnar (c) def. Rey Mysterio
The build to the most personal match on the Survivor Series card began months ago when WWE champion Brock Lesnar viciously attacked Rey Mysterio's son Dominik, who was at ringside for an episode of Raw. While Mysterio's comrade Cain Velasquez was unsuccessful at gaining a measure of retribution at the Crown Jewel event, Mysterio looked to take it upon himself Sunday in a no disqualification match.
As soon as the bell rang, Mysterio exited the ring and snagged a lead pipe from under it. Mysterio had used a lead pipe during an attack on Lesnar a couple weeks ago, but Lesnar wasn't having it and instead took the fight to Mysterio before the lead pipe could be used. After multiple clotheslines, Lesnar took Mysterio to the outside of the ring and punished him. He tossed him over the announcers' table, suplexed him and rammed him back-first into the ring post. On an even more devastating note, Lesnar German suplexed Mysterio onto the lead pipe back in the ring.
At that point, Dominik charged the ring and attempted to throw in the towel. Lesnar grabbed the towel and threw it out of the ring. Lesnar looked to unleash more havoc on Dominik, but Mysterio caught him with a low blow. Seconds later, Dominik did the same. The comeback story began to unfold as Mysterio connected with the lead pipe. He and Dominik then executed a double 619, consecutive frog splashes and both covered the champ, but Lesnar kicked out.
Lesnar regrouped and as Dominik ascended the top rope again. Lesnar caught him and delivered a German suplex. He then caught a flying Mysterio, hit an F-5 and retained his title.
What's next: Considering how impressive Dominik looked, would it be out of the realm of possibility to foresee a father/son tag team? I think it could work. As for Lesnar, perhaps we circle back to the Seth Rollins rivalry, but hopefully something fresh develops.
Men's Survivor Series elimination match: Team SmackDown (Roman Reigns, Mustafa Ali, Braun Strowman, King Corbin, and Chad Gable) def. Team Raw (Drew McIntyre, Kevin Owens, Seth Rollins, Randy Orton & Ricochet) and Team NXT (Tommaso Ciampa, Keith Lee, WALTER, Matt Riddle & Damian Priest)
Things got a bit muddy in the middle, but the start and finish were pretty solid in this 5-on-5 match. The end, especially, was tremendous.
Roman Reigns and Keith Lee were the final two men in the match for SmackDown and NXT, respectively. Lee pinned Seth Rollins cleanly after his Jackhammer from fireman's carry finisher set it up, but then Reigns hit Lee with two Superman punches. Lee kicked out at two and Reigns went for a Spear, but Lee countered with a Spirit Bomb for a very close two-count.
Reigns then lined up Lee for a Spear, hit it and got the pin.
The crowd was going loudly for Lee, who was an indie darling for years before signing with WWE in 2018. Afterward, Reigns put out his fist and Lee bumped it.
It was a huge moment for Lee, which really made him as a threat to not only the biggest names in NXT, but the biggest names in all of professional wrestling.
The match began with a fun standoff between NXT UK champion WALTER, Braun Strowman and Drew McIntyre. The Chicago crowd was super hot for WALTER, chanting his name over all of the other superstars in the ring at the start. WALTER and McIntyre exchanged chops, then WALTER and Strowman went at it. McIntyre ultimately landed a Claymore on WALTER and pinned him.
Kevin Owens came into the match for Raw and went to the top rope with a decision to make. He could either dive onto Chad Gable or NXT's Ciampa. On Saturday night, Owens teamed with NXT and Ciampa, so Owens teased that turn toward NXT. He landed a frog splash on Gable and pinned him. Ciampa later eliminated Owens with a DDT.
Randy Orton and Ciampa squared off, then Ciampa tagged in Damian Priest. Orton quickly landed an RKO on Priest and eliminated him. Matt Riddle came right in for NXT and rolled up Orton for a pin. Meanwhile, King Corbin was beefing with his SmackDown mates, especially Reigns. Orton stayed in the match after being eliminated and landed an RKO on Riddle. Corbin capitalized and pinned Riddle.
Strowman got a showcase next. He landed shoulder blocks on members of the NXT and Raw teams outside of the ring. On a second attempt, Lee stopped him with a cross body that downed both men. McIntyre hit Strowman with a Claymore Kick outside of the ring and Strowman couldn't get back in and was eliminated by countout.
Ricochet came into the ring next and hit a dive onto Reigns on the outside, but back in the ring Corbin eliminated Ricochet after an End of Days. Ali was next in the ring for SmackDown and had a really nice sequence, landing a facebuster on Ciampa after getting launched in the air by Rollins and then a tornado DDT on Rollins. Corbin argued with Ali his teammate and Rollins capitalized with a Curb Stomp on Ali and a pin.
Rollins then hit a suicide dive on Lee. McIntyre went for a Claymore on Ciampa, but Reigns stopped him with a Spear and pinned him. Corbin dragged a prone Reigns into the corner for a tag and entered. Reigns finally had enough and hit Corbin with a spear, too, allowing Ciampa to pin Corbin and eliminate him.
Reigns, Rollins and Ciampa shared a moment in the ring with a faceoff, allowing Ciampa to soak in a bit of the spotlight. Rollins tossed Ciampa outside and asked Reigns to do a Shield powerbomb, but Lee broke it up.
Back in the ring a flurry of finishers began. Ciampa landed a Project Ciampa on Rollins, but Rollins kicked out. Reigns then landed a Superman punch on Ciampa and Rollins followed that with a Curb Stomp and that was it for the NXT captain.
That left Lee, Reigns and Rollins for that exceptional finishing stretch.
What's next: Reigns back as the face of WWE, presumably. He's certainly the face of SmackDown. At times, it seemed as if they were teasing Reigns versus Rollins, but who knows. Survivor Series ends up not mattering in the grand scheme of things usually. Lee got the most out of it. He is a future NXT champion and main roster star, for sure.
Universal championship: 'The Fiend' Bray Wyatt def. Daniel Bryan
Daniel Bryan has made a career of taking non-ideal circumstances and squeezing the absolute most out of them, but even he had his work cut out for him Sunday night in his Universal title challenge against "The Fiend" Bray Wyatt.
Saddled with the hyper-gimmicky red lighting for the entirety of the match, as has been the case for all of Wyatt's bouts as "The Fiend", Bryan turned around a slow start and actually had the crowd on its feet, buying into his miniscule chances at victory.
After Wyatt tossed Bryan around ringside, Bryan staged his comeback and basically didn't stop moving for the next eight minutes. Even as his suicide dive was caught, Bryan fought his way out of a Sister Abigail attempt and landed a running knee. Bryan leapt from the top rope over the ringpost with a giant splash on Wyatt, added multiple missile dropkicks and ultimately fully re-embraced the "Yes!" movement.
But the "Yes!" kicks had little effect, with Wyatt uttering guttural screams and laughing each time he absorbed pain. Bryan went into full "Yes!" chants, bringing an otherwise tepid crowd to a fever pitch in time with him, and hit a running knee. The two-count was the closest thing to vulnerable that Wyatt has been since his return as "The Fiend", but few truly believed he was in any kind of peril.
Bryan flew twice into big moves from Wyatt -- once feeding into a punch to the chest, and then when a running knee attempt was caught in midair by Wyatt's mandible claw. Bryan passed out, and Wyatt earned a three-count to retain his Universal championship.
What's next: Bryan is perpetually proving his utility, and turning this sideshow of a match into something even moderately compelling was a herculean task. Whatever he does, hopefully it's far away from Wyatt. This match and the way Wyatt has been handled early in his Universal title reign has exposed some troubling long-term prospects. If Wyatt is completely invulnerable to pain, who will possibly be a realistic candidate to defeat him down the line? For now, he'll likely tear through another of SmackDown's big names.
NXT championship: Adam Cole (c) def. Pete Dunne
Adam Cole and Pete Dunne have had a busy weekend. Cole took part in a grueling War Games main event at NXT TakeOver on Saturday and Dunne earned the right to challenge for Cole's NXT championship with a win over Damian Priest and Killian Dain on the same show. Would they have anything left in the tank? You better believe it.
Hell of a few days for @AdamColePro and @PeteDunneYxB.

Both showed a ton of heart. #SurvivorSeries

— Shawn Michaels (@ShawnMichaels) November 25, 2019
As a result of their efforts Saturday, both Dunne and Cole had injury targets heading into this match. Cole's ribs were damaged from his 15-foot fall off a cage through two tables (he also had a previously injured wrist), and Dunne's left knee was taped. All of those injuries played roles in their offensive game plans.
An early example saw Dunne connect with an X-plex, dropping Cole on those injured ribs right after Cole had targeted his knee. The psychology factor in this match was strong.
A few sequences later, Dunne connected with a moonsault from the middle rope to the outside of the ring, dropping Cole to the ground. However, when he attempted the same maneuver in the ring, Cole caught him with his knees and followed it up with his last-shot knee strike. Dunne kicked out and the match really started to heat up from that point.
Cole kicked out of Dunne's finisher shortly after as well, forcing up a shoulder after Dunne connected with the Bitter End, but that wasn't the end of the near falls. Cole nailed Dunne with a super kick in mid-air as Dunne attempted another moonsault, but Dunne managed to kick out of that too.
The move of the match came as Cole hit a Panama Sunrise to Dunne on the ring apron, but that wouldn't be the last Panama Sunrise we'd see. Back inside the ring, Cole reversed a Bitter End attempt by Dunne into another Panama Sunrise and followed it up with the Last Shot knee strike for the win.
What's next: Given that Ciampa pinned Cole in last night's War Games main event, it would seem that a Cole/Ciampa NXT championship rivalry is on the horizon. As for Dunne, there are many enticing options on the NXT roster.
Roderick Strong (NXT North American champion) def. AJ Styles (United States champion) and Shinsuke Nakamura
This was a very good match. Strong more than showed he belonged with two of the best workers on the WWE main roster and he got the pin, too.
The finish came after Styles landed a springboard Phenomenal Forearm on Nakamura. Strong, who was lying in wait outside the ring, slid back in, tossed Styles out and stole the pin. NXT moved to 2-0 on the main card with that victory.
This match had its fair share of innovative, three-way offense, but where it really excelled was stiffness. All three guys brought their working boots (little ones in Strong's case) and beat the tar out of each other. Nakamura, in particular, can be hit or miss. He was in Chicago to work Sunday night, for sure.
At one point, Nakamura hit a Doomsday Device-like knee off the top rope on Strong when Strong was on Styles' shoulders. He also landed a nice Go to Sleep on Strong that expectedly prompted a "CM Punk!" chant. Another cool sequence saw Strong sunset flip Styles out of the corner right into a running knee from Nakamura.
Strong earned the spotlight. The spectators at AllState Arena probably knew how good Styles and Nakamura are, but the main roster fans might not be as familiar with Strong, who truly stood out.
Strong has quietly been one of the best in-ring workers in the world for the better part of a decade -- go watch old Ring of Honor and PWG if you need the proof. This was an incredible showcase for him, not unlike Ripley. The difference is that Strong has been wrestling as a pro for almost 20 years while Ripley's career is really just beginning.
What's next: Strong continues on as NXT North American champion with no shortage of potential challengers. His win here makes that title even stronger (Strong-er?) moving forward. The ongoing program with Keith Lee and Donovan Dijakovic could very well continue. Styles, the WWE U.S. champion, and Nakamura, the WWE Intercontinental champ, don't lose a ton here in a losing effort.
5-on-5-on-5 match: Team NXT (Rhea Ripley, Candice LeRae, Toni Storm, Bianca Belair & Io Shirai) defeats Team Raw (Charlotte Flair, Natalya, Asuka, Kairi Sane & Sarah Logan) and Team SmackDown (Carmella, Dana Brooke, Sasha Banks, Lacey Evans & Nikki Cross)
Rhea Ripley had the kind of week that can make a career. She went one-on-one with Raw women's champion Becky Lynch on Wednesday, defeated Charlotte Flair and Sasha Banks on SmackDown and then won the first women's WarGames match despite a 2-on-4 disadvantage Saturday night, pinning NXT women's champion Shayna Baszler to boot.
Then came Sunday night. In the biggest showcase NXT has ever had as a brand to date, Ripley pinned Sasha Banks in the 5-on-5-on-5 women's elimination match to open Survivor Series, putting NXT on the board.
The new format put one member of Team Raw, Team SmackDown and Team NXT in the ring at the same time. The 15-woman match went a surprisingly long stretch without an elimination as bodies flew all over the place and chaos reigned. Everyone got a chance to shine. Former teammates Io Shirai and Kairi Sane went head-to-head, Candice LeRae and Asuka mixed it up, and finishers flew around at a dizzying pace.
LeRae and Shirai both went down with "injuries" early on the match -- seemingly making them the first two eliminations and leaving NXT at a disadvantage as everyone else took a breather. Their "injuries" happened without so much as a replay to find the cause, and took the wind out of the sails after an exciting opening sequence. With anywhere from 10-to-14 eliminations needed to end the match, the creative attempt to cull the numbers was understandable, if poorly executed or explained.
Bianca Belair, using the ropes and some leverage on her legs from her teammates on the outside, eliminated Nikki Cross from the match and knocked SmackDown to four participants. Belair got her second elimination when she successfully landed a 450 splash on Sarah Logan -- knocking out the first member of Team Raw.
After Carmella made the highlight reel with a top-rope head scissors that sent Charlotte Flair flying into Belair, Flair flew in from off screen and hit a natural selection from out of nowhere on Carmella and got the pinfall.
Sane dropped an In-Sane elbow on Toni Storm, but Banks broke up the pinfall attempt with a running meteora and rolled up Sane. Asuka followed with a spinning heel kick to eliminate Dana Brooke, quickly leaving SmackDown with just two participants.
Asuka and Flair chose that moment, however, to get into a shoving match and let their boiling tensions run over. Asuka hit Charlotte with a face full of green mist and then left the match, leaving Raw with just two members -- and that was quickly reduced to one as Lacey Evans hit Flair with a woman's right.
Natalya stacked up Evans and eliminated her, though, leaving just Banks on SmackDown and Natalya for Raw, while NXT remained three strong. Banks and Natalya aligned their interests, and a combination sharpshooter and Banks Statement eliminated Storm. Banks and Natalya then hit the Hart attack on Bianca Belair, channeling Natalya's father, Jim Neidhart, and her uncle Bret Hart, to eliminate Belair.
Banks, predictably betrayed Natalya to eliminate Team Raw, leaving Banks and Ripley to battle it out and grab a victory for their team. Dueling "lets go Rhea" and "lets go Sasha" chants echoed through the Allstate Arena.
Banks countered a standing submission, brought it to the ground and locked in the Banks statement. Just as Ripley reached for the ropes, Banks readjusted and appeared to line up a victory. That's when Shirai and LeRae re-emerged, saving Ripley.
A springboard basement dropkick from Shirai set up Ripley for the Riptide, giving her another signature victory and a big swing in momentum for Team NXT.
What's next: Ripley is on a collision course with Baszler and the NXT women's championship. Asuka and Flair have a lot to settle, and the women's tag team titles are sure to be in the mix. Everyone else is, well, anyone's guess.
Viking Raiders (Raw tag team champions) def. The New Day (SmackDown tag team champions) and Undisputed Era (NXT tag team champions)
Tag team wrestling is alive and well, which is why it was a bit frustrating to see a match between three of the top teams in all of pro wrestling battling it out for brand supremacy on Sunday's kickoff show. But placement wouldn't stop any of the participants from putting on a good match.
The most intriguing part of the bout, at least early, was the showcase of strength and athleticism between Ivar and Big E -- a future battle that would be very interesting. Erik and Kofi Kingston joined the fray as the Viking Raiders and New Day began to slug it out. From there, both teams and The Undisputed Era traded advantages.
One of the best spots of the match occurred when Erik picked up his own teammate, Ivar, on the ring apron and body slammed him onto both members of the New Day and Undisputed Era, who were standing outside of the ring. Shortly after, Big E secured Erik in a power bomb position and Kingston executed a stomp off the top rope, driving him to the mat. Ivar broke up the pinfall attempt just in time and moments later The Viking Raiders and Undisputed Era took out Kingston and Big E, leaving the NXT champs and Raw champs alone to battle.
Ultimately the Viking Raiders caught Kyle O'Reilly with the Viking Experience and slammed him down on top of Bobby Fish. That was all she wrote and team red was on the board with their first victory of the night.
What's next: It's likely that all three teams go back to their respective brands and begin some new rivalries or tie up some loose ends with some existing ones. Hopefully, this match being moved to the kickoff show is not a sign of the tag team division getting lost in the shuffle.
---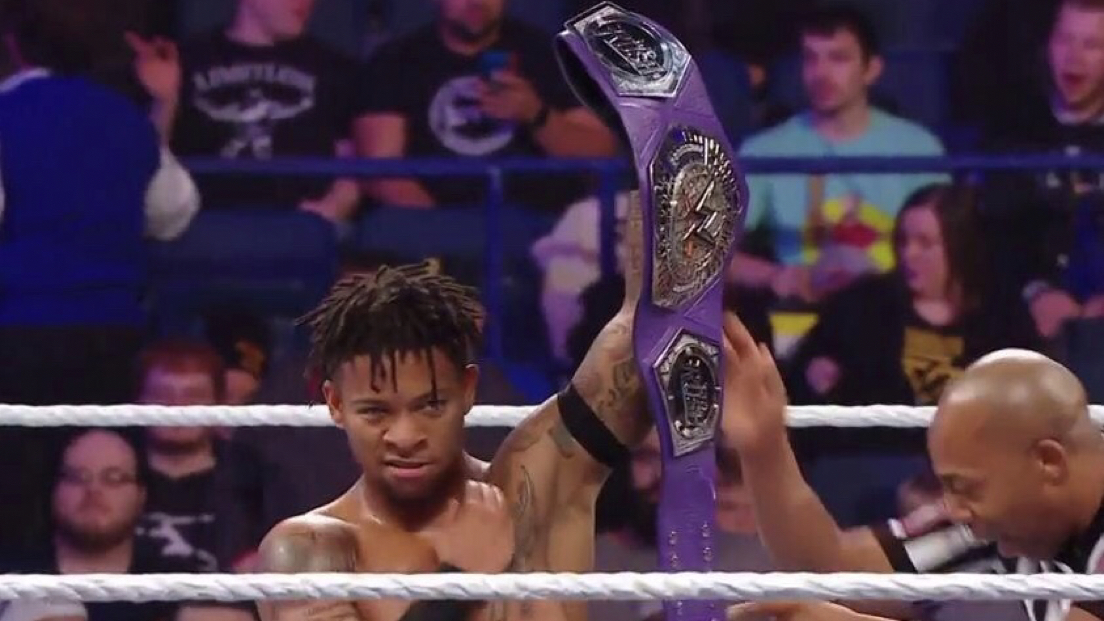 Lio Rush successfully retained his NXT cruiserweight championship in a high octane clash against Akita Tozawa and Kalisto. Rush ultimately hit the Final Hour on Kalisto to get the pinball victory, but the highlight of the match came when all three participants got intertwined in a triple Spanish fly from the top rope.
---
Tag team battle royal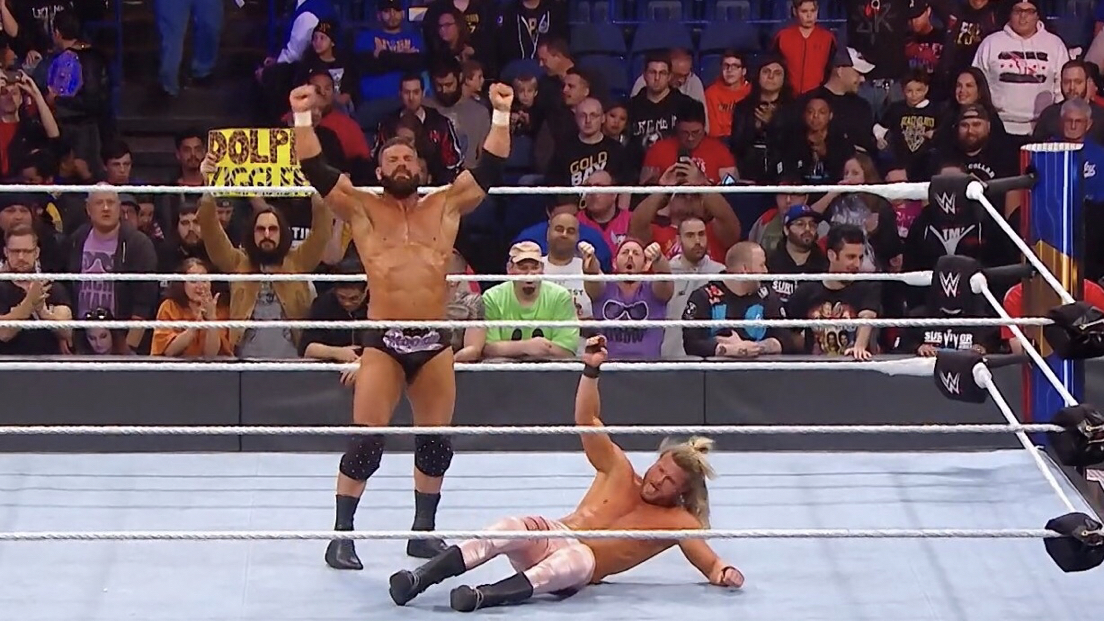 In the first match of the night on the WWE Survivor Series Kickoff show, Bobby Roode and Dolph Ziggler outlasted nine other teams to win a tag team battle royal and strike the first blow for Team SmackDown. Roode and Ziggler last eliminated The Street Profits.
Featuring: The OC, Forgotten Sons, The Revival, Dolph Ziggler & Bobby Roode, The Street Profits, Zack Ryder & Curt Hawkins, Breezango, Lucha House Party (Gran Metalik & Lince Dorado), Imperium (Fabian Aichner & Marcel Barthel) and Heavy Machinery (Otis & Tucker)
(c) - indicates defending champion(s)