What are the league-wide implications from the Anthony Davis trade?
The Los Angeles Lakers have agreed to a deal to acquire the All-Star big from the New Orleans Pelicans for Lonzo Ball, Brandon Ingram, Josh Hart and multiple first-round picks. Davis is now paired with LeBron James in a wide-open Western Conference, and the Pelicans now have a deep collection of pieces to complement consensus No. 1 NBA draft pick Zion Williamson.
So, who won the trade? How good are the Lakers and Pelicans now? And what's next for both teams?
Our NBA experts answer the big questions following this blockbuster move.
More: NBA Twitter reacts | Trade grades

---
1. What is your initial reaction to this trade?
Tim Bontemps: The Pelicans extracted a massive haul despite having relatively little leverage, and the Lakers got the massive star they needed desperately. New Orleans can now go into the Zion Williamson era with a bevy of future draft picks to build around him, plus young players who should somewhat complement him. LeBron James and Anthony Davis together should allow the Lakers to have a chance to contend in the 2019-20 season.
Kirk Goldsberry: It's the risk the Lakers had to take, and it's the haul the Pelicans needed. My initial take is both teams did great. The Lakers have added LeBron James and Anthony Davis in the past 12 months. That's pretty good -- congrats, dudes. Now they have to build a squad that can make a deep playoff run. They tried and failed to build around LeBron last year, but I think this trade makes them contenders.
The Pelicans just got a massive trove of assets to play with. Zion Williamson is coming, and the rest is still up in the air. They could move Ball. They could move the No. 4 pick. They could move the future first-rounders. Regardless, if David Griffin & Co. manage this all correctly, they are in a great team-building situation for the next decade.
Royce Young: What's the emoji for "Hey, that's a pretty sensible trade that seems like a win for both parties involved"? There's a little shock it got done now -- two days after the NBA Finals ended, for crying out loud -- and that the Lakers got ahead of any team that saw the Toronto Raptors win a title with one year of Kawhi Leonard and felt ambitious about trying that kind of move with Davis. With the NBA wide open next season, plenty of teams could've taken the chance for a shot at one year with Davis, but the Lakers wisely got out in front of that.
Bobby Marks: I'm not surprised, considering the Pelicans had a self-imposed deadline with the draft less than a week away. The feeling was that New Orleans wanted to focus on the No. 4 pick -- possibly to trade again the night of the draft or keep it. Now they have a little time to bring in prospects for meetings and workouts before June 20.
André Snellings: This is huge, a win-win trade, with the Lakers on the short list of championship favorites and the Pelicans possibly the most exciting young team in the league. In the aftermath of an NBA season that ended with an incredible championship run, this trade is a massive game-changer that reshuffles the deck and could affect every major decision in what already was shaping up to be a monster offseason.
---
2. How did the Lakers do in this deal?
Marks: That's still to be determined based on what they do in free agency. Yes, Los Angeles gave up more than the Knicks did in the 2011 Carmelo Anthony trade to New York, but Davis is a top-five player in the prime of his career. The Lakers will now need to focus on surrounding Davis and James with shooters and find a starting point guard.
Bontemps: This is contingent on what the Lakers do next. Yes, they have Anthony Davis and LeBron James, but here's the rest of the roster: Kyle Kuzma, Moritz Wagner and Isaac Bonga. If the Lakers have to complete this trade on July 6, their cap space drops to somewhere around $24 million.
Regardless of the timing, it will take a lot of creativity to fill out the rest of this roster. We saw the Golden State Warriors' limited depth in the playoffs, and this L.A. team will be even thinner. Meanwhile, the Lakers are paying a huge future price for a present gain. If they win, it won't matter. If they don't, it could be incredibly painful. Just ask the Brooklyn Nets about what it's like to give away future draft assets far down the road.
Young: It's simple: They landed one of the best players in the league, and he is 26 years old -- it's a massive win. Despite the expectation that Davis will still test free agency next summer, the Lakers surely will have the inside track on re-signing him long term. So although it's a lot to give up, depth is compromised and the future asset cupboard is picked clean, they also have Anthony Davis -- most likely -- for the prime of his career.
It jolts the Lakers into the Western Conference-contender conversation now, and they also have a franchise building block to pass the torch to as LeBron James ages. Oh, and they still have cap space and quite the pitch to make to interested free agents this season. They ain't done yet.
Snellings: The Lakers did very well in this trade, for what they wanted to do. While they had to liquidate the majority of their young talent and future draft potential, they can pair two short-list MVP candidates with enough cap space to potentially add more pieces. They kept Kyle Kuzma, who is ready to contribute at a high level now and fits in the frontcourt next to LeBron and Davis. Add in some solid vets and they will strongly push to represent the West in next season's Finals.
I'm really high on Lonzo Ball, in particular, and think he has All-NBA upside, but he was unlikely to reach that level while LeBron is still at his peak. This trade helps the Lakers now.
Goldsberry: The best players on the 2017-18 Lakers were Kyle Kuzma, Brandon Ingram and Julius Randle. They're starting 2019-20 with LeBron James and Anthony Davis. That's a big improvement, but it still depends on what's next. It takes more than two guys to win NBA games. This team is in dire need of shooting. If the Lakers can surround this team with solid 3-and-D players, look out. But more guys like Rajon Rondo and Lance Stephenson won't be good enough. The Lakers' mantra for July should be, "Shooting, shooting, shooting."
3. How did the Pelicans do in this deal?
Snellings: The Pelicans received an outstanding haul for a player who had made it clear he wasn't coming back after next season. If Ingram is able to return to full health, the Pelicans have acquired three starting-caliber, young players, two of whom have legitimate All-Star upside, in addition to several draft picks -- headlined by the fourth selection in this month's draft. Considering they already had won the Zion Williamson sweepstakes and they still have Jrue Holiday on the roster, the Pelicans look like major up-and-comers who should play a fun, exciting brand of basketball that will bring in fans and win some games.
Marks: It is a textbook case of how to trade an All-Star. We still don't know where the first-round picks will land, but David Griffin followed the script employed by the Lakers' neighbor, the Clippers. Instead of hitting the rebuild button, New Orleans retooled while adding multiple future assets, a top-four pick and at least two starters in Ball and Ingram who are on controllable contracts.
Young: With Williamson already setting up their future, the Pelicans not only have stocked themselves with youth and assets, but they might have a sneaky-good -- and very fun -- team next season. A core of Holiday, Ball, Ingram, whomever the Lakers take for them at No. 4 and Williamson is a quality group and a must-watch NBA League Pass team. The Pelicans would've probably liked a more accomplished star in return, plus the youth, but they checked quality boxes with this deal.
Bontemps: They took advantage of a desperate team. This is a massive deal -- one that will allow newly installed head of basketball operations David Griffin a chance to build around Williamson for the long term. The future picks will give New Orleans lots of bites at the apple. Meanwhile, they get other young pieces to play alongside Williamson today, and they could either use the No. 4 pick in the draft or trade it for something else. More than anything, this trade gives the Pelicans flexibility moving forward.
Goldsberry: Davis was leaving town anyway, and David Griffin just got a mighty haul of assets for him before he split. It's hard to imagine a better overall package from any other team. The players by themselves still have a lot of potential -- specifically Ingram, who could become a terrific scorer.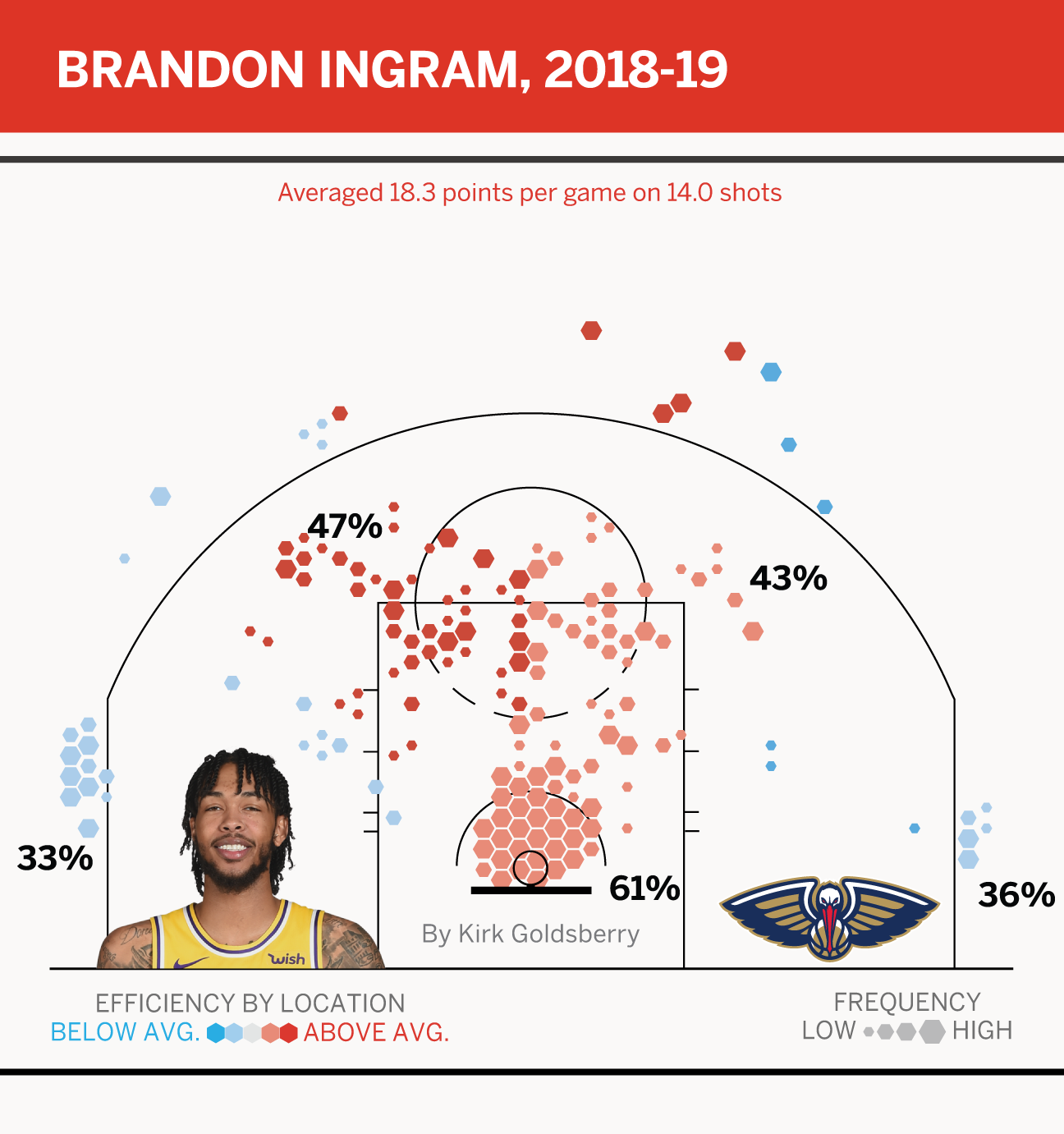 But the draft picks are just as juicy. In the past 15 years, the No. 4 pick in the draft has yielded players such as Mike Conley, Russell Westbrook, Kristaps Porzingis, Aaron Gordon and Jaren Jackson Jr. It also has yielded Cody Zeller, Dragan Bender and Josh Jackson. Whomever the Pelicans grab with that pick (if they even keep it) will be huge in determining just how good this deal looks in the future.
---
4. What league-wide implications from this trade do you find most intriguing?
Young: In the end, Anthony Davis, LeBron James and their agent Rich Paul, got what they wanted. It was a power play to publicly request a trade during the season, and one that disrupted two franchises because of it. Involved executives were fired or stepped down. It's not the first situation of its kind, but it is a new precedent for superstar players to catalog. Paul George and Kawhi Leonard didn't get traded to the place they preferred -- and they might be happier because of it -- but Davis did.
Goldsberry: The West is absolutely wide open. We haven't said that in a few years. Given the free agency and injury situations hanging over Golden State, that Finals spot is suddenly up for grabs. The Lakers are now the only West team with two top-10 players who are healthy.
Bontemps: What a week, right? The Toronto Raptors win the title, Kevin Durant and Klay Thompson both suffer devastating injuries that could keep them out all of next season and now Davis goes to the Lakers. All of this only makes Kawhi Leonard's impending decision in free agency all the more important. The events of the past month have solidified Leonard as the best player in basketball. Where he chooses to play will be the next major decision that determines the way the league looks next season.
Marks: League sources indicate that this trade will be completed on July 6, which has major ramifications. Waiting until July 30 would give the Lakers the ability to sign a max player during the first week of free agency or split the $32.5 million between two or three players. But finalizing the trade on July 6 limits what the Lakers can add in free agency, and it should take any max players off the board.
Snellings: With the Warriors dealing with two major injuries and potential losses in free agency, there already was going to be an opening for another team to stake claim to the West. With this trade, every team in the NBA with designs on next season's championship will have to consider pushing in all of their chips and making major moves.
---
5. Early prediction: Who is your 2020 NBA title favorite?
Goldsberry: As of today, it has to be the Milwaukee Bucks. They were the best team in the regular season. They should come back even better next year, and with the uncertainty swirling around literally every other contender, the Bucks should be the favorites.
Marks: The Rockets -- if they take the for sale sign off the roster.
Bontemps: It's impossible to say before free agency shakes out. What is certain is that the title race is as wide open as it has been in at least a decade. Golden State's injuries likely knock them out of the picture, but depending on what happens next month, up to 10 teams could enter next season with realistic championship aspirations.
People spent the past few years complaining about the air of inevitability around the NBA. Those days have officially ended.
Young: Here's what's awesome: I have no idea! The NBA is wide open for next season. There might be a superteam still waiting to form in a couple of weeks that changes the feel of that, but there's a case to be made for up to maybe 10 teams that could be in the Finals.
Snellings: It's hard not to see the Lakers as the early favorites, but so much can change. The Bucks, Raptors and Rockets would be the other three major contenders, as currently constructed, but each has major personnel uncertainty that makes it risky to pick. The 76ers looked like the next team up, but if Jimmy Butler and/or Tobias Harris leaves, then all bets are off. But the Lakers, with LeBron and Davis, have their core in place, and every addition from here is icing. Ask me again once the offseason is over.