CHARLOTTE, N.C. -- If you want see Cam Newton's chest bow out, his smile grow to caricature size and his eyes light up like the love of his life just walked in the room, don't ask about one of his patented runs or on-a-dime touchdown passes.
Ask about his blocking.
Nothing gets the Carolina Panthers quarterback more excited than talking about how he took on an opposing defender, even if he didn't actually hit anybody, as was the case in Sunday's 42-28 victory against Tampa Bay.
It's something the Pittsburgh Steelers (5-2-1) will have to be prepared for against the Panthers (6-2) on Thursday night (8:20 p.m. ET, Fox/NFL Network).
"I've been seeing a lot of folks didn't want no smoke from your boy," Newton said Sunday after being the lead blocker on Curtis Samuel's 33-yard, double-reverse touchdown run. "I've got good film now and it goes way back."
Had you not seen Newton run out of bounds without hitting anybody as the defensive back approached, you would have thought he was describing his Week 5 shot that sent New York Giants linebacker Kareem Martin to the ground.
The way Newton lowered his shoulder and hit Martin square to free rookie wide receiver DJ Moore for a 19-yard gain was something you'd expect from a tight end, not a quarterback.
"If I can make a block, I'm going to bust my ass to do it," said Newton, who is bigger than some tight ends at 6-foot-5 and 240 pounds. "It sets the tone for the team. Not only for people on our team to see it, but in preparing and you see a quarterback and he's willing to sell out for the team the way I do."
Other quarterbacks, most of them mobile, have had a memorable block or two. Brett Favre used to relish the opportunity to lead a reverse.
But Newton is better at it than most because of his size.
"When it all comes down to it, I try to make sure my guy isn't the guy to make the tackle," Newton said. "I know guys like DJ, when guys like that have the ball in their hands they're extremely dangerous. I just want to uphold my end of the bargain."
That block from @CameronNewton 😳 💥

📺: FOX #CARvsNYGpic.twitter.com/dsDl8oWHxl

— ESPN (@espn) October 7, 2018
'One for the ages'
Newton didn't hesitate when asked about the best block of his career. He wasn't playing quarterback when it happened.
"It would have to be junior college," Newton said of his 2009 season at Blinn College in Brenham, Texas. "It was an onside kick. We were playing Northeast Oklahoma. I was on the hands team, for obvious reasons, having good hands. And I nailed -- I mean I nailed the defender. It felt so good.
"That was one for the ages for me. All the other stuff was pretty solid."
One of Newton's most solid NFL blocks came in 2014 when he took on Chicago's Lance Briggs (6-1, 254) on a reverse by wide receiver Philly Brown.
The 2015 NFL MVP went into a nearly two-minute monologue during his postgame news conference describing how he focused on Briggs to "seal the edge."
"I said, 'Lance Briggs ... (cue music) dun-dun-duuun ..." Newton said. "I said, 'Oh, my God! Had to put extra groceries in my bag, close my eyes, pinch them as hard as I can and give him everything I had.
"So I hit him. Boom! He wobbled. He was kind of like Goliath. He took like six or seven steps and then he finally fell. Is that a pancake? It's not? It's a pancake in my book."
Defenders can't help but remember such plays when preparing for Newton.
"That's obviously an intention for him," Pittsburgh cornerback Cameron Sutton said. "Obviously everybody has their pre-notion that quarterbacks get out of the way. So for him to do that tells you what kind of player he is. He's willing to do whatever for his team."
'Blocked him with his presence'
Buccaneers safety Justin Evans (No. 21) apparently wanted no part of Newton on Samuel's touchdown run. See it here in this animation courtesy of NFL Next Gen Stats: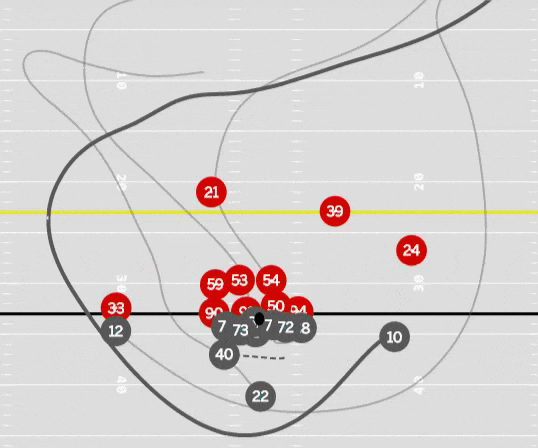 That made for an entertaining film review the following Monday.
"The DB wasn't even looking at the runner," backup quarterback Taylor Heinicke said when defending Newton for running out of bounds. "He was looking at Cam, not trying to get hit by Cam. I don't know of other quarterbacks that's happened to in the league other than Cam.
"He blocked him with his presence."
You can't blame Evans. He is 6-foot, 199 pounds. Newton is a freight train compared to most quarterbacks.
Had Evans seen Newton's block on Martin (6-6, 263) there would have been more incentive to avoid the quarterback.
"He flatlined him," Carolina nickelback Captain Munnerlyn recalled. "Cam's not the average quarterback. Most quarterbacks would just move the defender out of the way. I saw Tom Brady [Sunday night] go like, 'Oh, no!' and got out of the way."
Munnerlyn was referring to the trick play New England ran against Green Bay. Brady threw a backward pass to wide receiver Julian Edelman, who threw back to running back James White on the opposite side for a 37-yard gain.
Brady had a chance to block Montravius Adams (6-4, 304) but ducked under the lineman and continued to run downfield.
But even Brady is proud of his blocks, or "speed bumps" as he called them when he posted a video of him getting in the way of Buffalo linebacker Lorenzo Alexander a week earlier on an end-around.
Brady, by the way, wound up on his backside.
Newton typically is the one who puts the defender on his backside. Maybe that's because outside of Pittsburgh's Ben Roethlisberger (6-5, 240) there aren't much bigger speed bumps at quarterback.
"He's the size of most defensive linemen, playing quarterback," New York's Martin said of Newton. "So that definitely gives him in an advantage."
Triple threat
Newton always has loved blocking, going back to his days playing for coach Dallas Evans at Westlake High School in Atlanta.
"I just remember back in the day when it came time for him to block, his eyes lit up," Allen said. "He's looking for that contact."
Defensive players are looking to avoid embarrassment. The last thing they want is jokes about being taken out by the quarterback during film review.
Carolina safety Mike Adams says he believes that's what the Tampa Bay safety was thinking.
"I've been pancaked by an offensive lineman and didn't feel bad," Adams said. "But if a quarterback did it to me, yeah, I'd feel bad. I'm just glad it wasn't me. Cam is big. And when he's running, he runs with intention. He wants to run somebody over, punish somebody.
"That's the double-edged sword about him. He can run you over or run by you."
That makes Newton a triple-threat quarterback instead of a dual-threat, as most describe him. With the Panthers running more reverses than ever, the first overall pick of the 2011 draft has to be accounted for more than ever.
That's saying a lot since Newton is off to the best start of his career with 19 touchdowns (15 passing, four rushing) and only four interceptions with a career-high pace 67.3 completion percentage.
Carolina coach Ron Rivera appreciates Newton's desire to block, but keeping his quarterback healthy is his priority.
"We don't design it so he's the lead blocker," Rivera said. "I can tell you that much. You can get in somebody's way without having to hit them."
Newton did that to perfection on a reverse to wide receiver Jarius Wright in the second quarter of a 21-17 victory at Philadelphia. The defensive back's failed attempt to go around Newton for the tackle freed Wright for an additional 15 yards on a 34-yard run. Watch it here in this animation courtesy of NFL Next Gen Stats: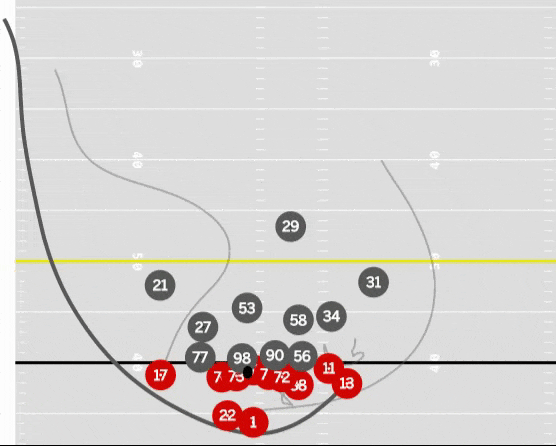 Given a preference, Newton prefers getting in the way to lowering the boom.
"I really don't like it like that," he said. "I just like the big play. Like if I were to hit somebody and they don't go to the ground, I'd be disappointed. It would be like, 'Man, this is a waste of time.'
"If I kind of shield somebody and it goes for a long run, a la Philadelphia, then I'm good with that. I would hate to sell out and try to hit somebody as hard as I can and it's a negative play."
And while plays might not be designed for Newton to be the lead blocker, he doesn't shy from it.
"Like I say man, I'm a football player," Newton said. "I just so happen to play quarterback and I think a lot of people kind of get that misconstrued.
"Whatever this team asks me to do -- run, pass, catch, block -- I'm all for it. I just want to win football games and that's it."